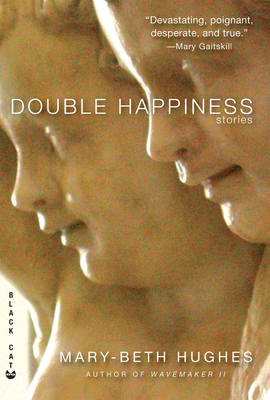 Double Happiness
Paperback

* Individual store prices may vary.
Description
Best-selling author Mary-Beth Hughes delivers a seductive, deeply human, and sophisticated collection about the universal need to be loved, and the complicated imperfections that jeopardize the ties that bind us. The stories in Double Happiness are extraordinary portrayals of the ordinariness of life. By pinpointing those moments of discord when personal needs and morality clash with circumstances beyond our control, Hughes challenges our concepts of responsibility, trust, resilience, and betrayal. In "Pelican Song," a thirty-year-old modern dancer who moonlights as a movie-ticket taker visits her parent's picturesque home to discover that her stepfather has begun mistreating her too-accommodating mother; "Horse" follows maladjusted honeymooners in Atlantic City whose romantic weekend is saved from emotional catastrophe by a horse that refuses to dive from its pedestal into the ocean; and a holiday in New York City turns from shopping sprees to a young girl's sharp discovery of her father's secret life in "Rome." With an elegant blend of humor and pathos, Hughes captures the turning points in relationships that make us wonder how well we really know those we love. Double Happiness is a revealing meditation on the fragility of contentment and the lengths we must go to in order to sustain it.
Praise For Double Happiness…
These stories are devastating, poignant, desperate, and true."Mary Gaitskill

"Hughes is a quietly gorgeous writer, lavishing startling metaphors on her halflost souls. . . . [The] tone is often hushed, lending the collection a discreet, old-fashioned quality reminiscent of a restrained writer like Mavis Gallant. . . . Her stories begin like a train already in motion; the reader must trot to get a handhold and swing up. The elegant phrasing, the general hush, the condensationall this contributes to a satisfying sense of intimacy . . . in this delicate, tender [collection]." The New York Times Book Review

The stories in this excellent collection meander with the sureness of streams discovering their paths. Hughes keeps her prose close to her characters' thoughts, and doles out the most crucial information on the sly. . . . [Her] careful but unobtrusive organization gives even the saddest revelationsand most revelations here are sadan air of the miraculous."The New Yorker

[An] assured collection . . . of stylish, intricate stories about seemingly ordinary people . . . whose secrets, discoveries, longings, and subterfuges are anything but. [Hughes is] an emerging master of the form."Elle

The reader eagerly waits for the hammer to fall in these eleven wickedly drawn stories. . . . Hughes's characters are skillfully delineated modern types, caught off-guard and vulnerable . . . [by] surprising plot twists. . . . [An] intensely moving collection."Publishers Weekly (starred review)
Grove Press, Black Cat, 9780802170743, 224pp.
Publication Date: June 8, 2010
About the Author
Mary-Beth Hughes is the author of the best selling novel, Wavemaker II, a New York Times Notable Book. Her stories have been published in The Paris Review, Ploughshares, The Georgia Review, and A Public Space. She lives in Brooklyn and Gallatin, NY.