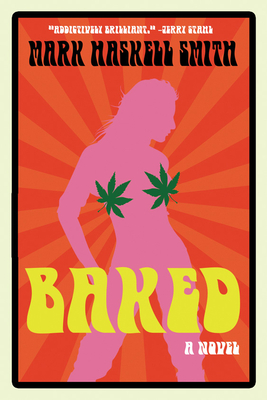 Baked
Paperback

* Individual store prices may vary.
Other Editions of This Title:
Digital Audiobook (1/14/2016)
Description
Miro Basinas is an experimental botanist who sells his rarefied product to a discerning clientele. Only Miro's not growing heirloom tomatoes or making organic wine--he's growing weed. And when Miro hits the big time by winning Amsterdam's famed Cannabis Cup, cannasseurs and ganjaficionados aren't the only people who want a piece of him and his mind-blowing pot that tastes like mangoes. A wickedly funny novel, Baked opens with a bang as Miro is cut down by a bullet. A mild-mannered hipster who doesn't know the first thing about revenge--or even who shot him--Miro is soon on a quest to recover his prize invention and to secure his place as the Floyd Zaiger (creator of the pluot) of weed. It's a journey packed with a delicious cast of characters, including a string-theory obsessed cop, a kinky paramedic, a Mormon missionary struggling to keep his "sap" under control in a city that is the personification of sex, a half-Irish-half-Salvadoran drug dealer and his dim-witted associates, a cougar starlet, and an entrepreneur who wants to turn his medical marijuana Compassion Centers into the Starbucks of pot. Baked is a hilarious, rip-roaring romp from a talented, utterly original novelist.

Praise For Baked…
As cockeyed and riotous as Carl Hiaasen on really good dope." Kirkus Reviews

A wickedly funny blast of a book featuring a fast-moving multilayered plot, prose that has a smart, jazzy swing, and moments of shivery unease while probing the tender areas of human randomness that crime shocks open."Richard Rayner, Los Angeles Times

Timing is everything in publishing, and novelist Mark Haskell Smith's Baked seems to be in perfect alignment with not only the stars and a harvest moon, but also the ascendancy of the pot-smoking constituency of California." The Wall Street Journal

Baked, Mark Haskell Smith's very funny fourth crime novel, tells a sprawling story and it's quite a mix: a sweet love story, raunchy sex, outrageous behavior, and a couple of murders, all of it laced with plenty of profanity. In short, this irreverent gonzo crime novel is not for the faint of heart. But it's a great trip for the right reader." Hallie Ephron, Boston Globe

Connoisseurs of absurdist humor will find him working at the top of his game here."Booklist

If books came with MPAA ratings, Smith's fourth novel would definitely get an NC-17. Rest assured that the novel contains plenty of drug references, drug use, and sexual content. But it's also a tightly plotted, well-paced caper with a message, à la Carl Hiaasen. VERDICT Not for the easily offended or the president of your local D.A.R.E. chapter, but an enjoyable ride for the rest of us." Library Journal

Between these covers, my friends, Mark Haskell Smith has harvested and served up the best kind of hybrid: at once a pulp mystery, demented comedy, and meditation on little ideas like greed, desire, and decency. Baked is original, subversive, a bit mind-expanding, and fully irresistiblea laugh a minute romp through a cultural moment just screwed up enough to be recognizably our own. You won't have time to exhale. Nor will you want to." Charles Bock, author of Beautiful Children

From the first sentence of Baked, which is so perfect it will have other writers eating their arms, Mark Haskell Smith grabs the reader by the throat and half-drags, half-gooses them through a laugh-out-loud, thrill-a-minute, tour de force of bad behavior, weirdness and contemporary illegal commerce. For years, the author's work has been an open secret to connoisseurs of monstro prose and outrageous, transcend-the-genre crime action. With Baked, Mark Haskell Smith may just have written his masterpiece. The writing is addictively brilliant enough to render it a Schedule Three narcotic. I defy anyone to put Baked down without wanting more. It's so good you'll lose your short-term memory."Jerry Stahl

"Murder, mayhem, marijuana and Mormons--what more could you ask for in a crime novel? Baked grabs you by the sacred underpants and doesn't let up 'til the last page."Lisa Lutz, author of The Spellman Files

Smith has a knack for winningly blending James Ellroy blunt violence with Elmore Leonard deadpan wit. With his new Baked, however, Smith approaches even rarer heights. In this dash through L.A.'s medical marijuana industry, Smith doesn't so much twist reality to give it a more comic edge as realize ordinary people can be pretty f@#king mental all on their own. And with its lovingly ordinary absurdity, Baked starts to approach the gimlet-eyed barbed satire of Terry Southern." Baltimore City Paper

"One of the funniest and most entertaining books I've read in a long time." Spinetingler Magazine

It is rare to find a novel that is both a true thriller and outright hilarious. If you treasure that combination as much as I do when it's done right, then you'll want to practically inhale Baked, the unique, drug-fueled romp from Mark Haskell Smith."Austin Camacho, The Big Thrill

Smith is mordantly funny."Los Angeles Review of Books
Grove Press, Black Cat, 9780802170767, 288pp.
Publication Date: August 3, 2010
About the Author
Mark Haskell Smith is the author of five novels, Moist, Delicious, Salty, Baked, and Raw, and the non-fiction Heart of Dankness: Underground Botanists, Outlaw Farmers, and the Race for the Cannabis Cup. His work has also appeared in the Los Angeles Times, Vulture, National Post, and the Los Angeles Review of Books. Smith is an award-winning screenwriter and assistant professor in the MFA program for Writing and Writing for the Performing Arts at the University of California, Riverside, Palm Desert Graduate Center. He lives in Los Angeles. He likes Mexican food.