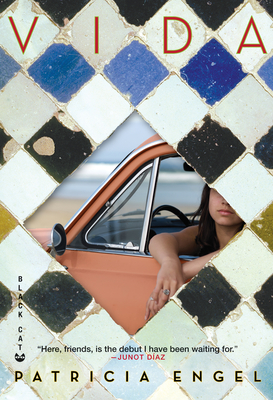 Vida
Paperback

* Individual store prices may vary.
Other Editions of This Title:
Paperback, French (2/27/2013)
Description
Fresh, accomplished, and fearless, Vida marks the debut of Patricia Engel, a young author of immense talent and promise. Vida follows a single narrator, Sabina, as she navigates her shifting identity as a daughter of the Colombian diaspora and struggles to find her place within and beyond the net of her strong, protective, but embattled family. In "Lucho," Sabina's family--already "foreigners in a town of blancos"--is shunned by the community when a relative commits an unspeakable act of violence, but she is in turn befriended by the town bad boy who has a secret of his own; in "Desaliento," Sabina surrounds herself with other young drifters who spend their time looking for love and then fleeing from it--until reality catches up with one of them; and in "Vida," the urgency of Sabina's self-imposed exile in Miami fades when she meets an enigmatic Colombian woman with a tragic past. Patricia Engel maps landscapes both actual and interior in this stunning debut, and the constant throughout is Sabina--serious, witty, alternately cautious and reckless, open to transformation yet skeptical of its lasting power. Infused by a hard-won, edgy wisdom, Vida introduces a sensational new literary voice.
Praise For Vida…
Winner of an Independent Publisher Book Awards Gold Medal for Literary Fiction
A New York Times Notable Book of the Year and Editors' Choice
A NPR Best Debut of the Year
Finalist for The New York Public Library Young Lions Fiction Award, PEN/Hemingway Foundation Award, and Paterson Fiction Prize
Long listed for The Story Prize
A Latina Magazine Best Book of the Year
A LA Weekly Top Book of the Year
Winner of the Florida Book Awards Silver Medal for General Fiction
A Los Angeles Times Holiday Gift Guide Selection

"The stories in Patricia Engel's striking debut collection are like snapshots from someone's photo album: glimpses of relatives, friends, lovers and acquaintances, sometimes posing, sometimes caught by the camera unawares. . . . [Engel] delineates Sabina's efforts to articulate an identity of her own with unsparing psychological precision. . . . What makes Sabina's coming-of-age story so compelling is the arresting voice Ms. Engel has fashioned for her: a voice that's immediate, unsentimental and disarmingly direct."Michiko Kakutani, The New York Times

Gloriously gifted and alarmingly intelligent, Patricia Engel writes with an almost fable-like intensity, whether she is describing suburban New Jersey or urban Colombia or some other lost place. . . . Her ability to pierce the hearts of her crazy-ass characters, to fracture a moment into its elementary particles of yearning, cruelty, love, and confusion will leave you breathless. Here, friends, is the debut I have been waiting for."Junot Díaz

"[An] arresting and vibrant new voice . . . Unforgettable."Vanity Fair

Arresting . . . Vivid and revealing . . . A tingle of recognition builds as detail after detail sings with the veracity of real life."The New York Times Book Review

Impressive . . . Unsentimental . . . [With] chiseled prose (precise and unforgiving as a boxer's jab) and [a] tender knowledge that yearning for meaning sometimes breathes under the thickest hides."NPR.org

Engel has an eye for the details of youth . . . [Her] impressive sensitivity to such nuances is what animates Vida . . . the literary equivalent of interacting with someone who maintains unceasing eye contactcompelling, impressive and a little unnerving. But the book is funny, too, in that same direct way. . . . It's hard to conceive of a reader who wouldn't find pleasure in Ms. Engel's humor and intelligence."The Economist (online)

[A] mesmerizing debut."Miami Herald

Vida calls to mind some of the best fiction from recent years. Like Elizabeth Strout's Olive Kitteridge, Engel uses stories about connected characters to illuminate her main subject, in this case Sabina, who moves with her family from Bogotá, Colombia, to New Jersey. Engel brings Sabina's family and culture to life with a narrative style reminiscent of Junot Díaz's The Brief Wondrous Life of Oscar Wao. . . . [A] vivid, memorable, and an exceptionally promising debut."The Plain Dealer (Cleveland)

You won't forget Sabina, the troubled, mouthy young Colombian-American woman at the heart of Patricia Engel's debut collection. . . . Vida feels like shards of memory. As if all that is left when things blow upas they always do for Sabinaare these beautiful pieces."John Freeman, NPR.org (Best Book Debuts of 2010")

[Vida] packs an emotional wallop that will leave you spinning. . . . Engel's precision as a writer and her unsparing gaze brings Sabina startlingly to life. In fact, Sabina's voice is so vivid and familiar, readers might find themselves wondering if they went to school with this fictional character or maybe worked in the same office after college. . . . Many have written about immigrants coming to the United States, but the manner in which Engel explores the shifting identity of a first-generation Latina may forge a new pathway in immigration literature."BookPage.com

"Every story glistens as it follows Sabina through Miami, Colombia, New Jersey, and New York City on her way to understanding and enlightenment in a violent, ugly, and stunning portrait of an American experience."LA Weekly (Top Books of the Year)

A striking debut . . . Engel explores timely questions of community versus personal identity, offers striking observations on the restrictions of class and race, and does it all in a voice that is free of artifice and effort. . . . Rendered with precision and absolute honesty, these stories are quiet and deep, a function of Engel's clear, direct prose, which is devoid of frills and accouterments."Shelf Awareness

Intense . . . [A] great debut . . . For me, reading Patricia Engel's Vida was a little like looking at a Lichtenstein. It reminded me of standing in the gallery of a breathless museum, atop creaky hardwood floors, observing forceful dots of color making a starkly beautiful paintingall the while I registered that sentimental love was something sweet, but inescapably counterfeit. . . . Engel has managed a complex portrayal of both wanting to believe in love while remaining darkly mocking of it. . . . Leveled with charm and muted nostalgia, Sabina's frank, swindling countenance is powerfully disarming."Bookslut

A narrative exploration of how far a person can run before accepting that she can't get away from herself . . . Engel has constructed such a solid and sympathetic central character. Fiction tends to like its women breakable, but Sabina doesn't break, and the narrative voice doesn't flinch."NPR.org (The Year's Best Outsider Fiction")

There's no baloney in Engel's stories, no falseness or posturing. Young women fall in love, and lose their way, as they actually do in life, in every heartbreaking register. The remarkable portrait of immigrant life is not a literary' portrait or a multicultural cliché, it is unsentimental, unsparing, and true. Vida is a unique and unforgettable book."Francisco Goldman, author of The Divine Husband

Edgy, perceptive, and razor sharp."Kirkus Reviews

Engel writes with a passion, yearning and care, crafting narratives and characters that are so real, you know them, have always known them. Pitch perfect, at once restrained and lush, intelligent, funny and dripping with melancholy, Vida marks the debut of a truly original voice."Chris Abani, author of GraceLand

Vida is emotional and elegant, a look at life through the wise eyes and fine prose of a remarkably talented writer."Uzodinma Iweala, author of Beasts of No Nation

Terrific debut . . . Vida is rich with life. Sabina's story is one of millions of threads of the immigrant experience, but it is universal as well: We all search for our place in the world, for the one who can make us visible."St. Petersburg Times

Direct and unsentimental . . . [Vida] doesn't disappoint."NOW (Toronto)

Engel navigates issues of class, ethnicity, and identity with finesse . . . [Her] prose is refreshingly devoid of pomp and puts a hard focus on the stiff compromises Sabina and her family have had to accept; there's a striking perspective to these stories."Publishers Weekly

Between the pop culture and politics of our time, we have become accustomed to language that does not clarify, but clouds. This is why Patricia Engel's work, with its taut focus, its pained illumination, is so important. In Vida, as much as we come to know her narrator, Sabina, we come to know more fully the inside of our own hearts."Asha Bandele, author of The Prisoner's Wife

Patricia Engel's Vida is that rare thing: a beautifully crafted book that truly has a story to tell. Brutal in its emotional honesty, graceful in its delivery, Vida signals the arrival of a new literary star."Mat Johnson, author of Drop and Hunting in Harlem

What Engel captures so acutely is the vast cultural inner-life of second-generation Americans . . . . [Written with] lovely, heartbreaking subtlety."Baltimore City Paper

[Written with] impressive sensitivity . . . it's hard to conceive of a reader who wouldn't find pleasure in Engel's humor and intelligence."More Intelligent Life (The Economist blog)
Grove Press, Black Cat, 9780802170781, 176pp.
Publication Date: September 7, 2010
About the Author
Patricia Engel's debut, Vida, was a New York Times Notable Book of the Year, a finalist for the PEN/Hemingway Fiction Award, Young Lions Fiction Award, winner of a Florida Book Award and Independent Publisher Book Award, and named a Best Book of the Year by NPR, Barnes & Noble, and L.A. Weekly. Her award-winning fiction has appeared in A Public Space, The Atlantic, Boston Review, Guernica, Harvard Review, and elsewhere. Born to Colombian parents and raised in New Jersey, she is a graduate of New York University and earned her MFA at Florida International University. Patricia lives in Miami. patriciaengel.com