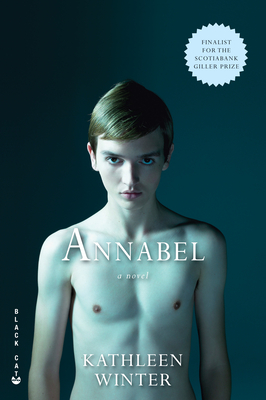 Annabel (Paperback)
Grove Press, Black Cat, 9780802170828, 480pp.
Publication Date: January 4, 2011
Other Editions of This Title:
Digital Audiobook (9/15/2011)
Paperback (6/1/2011)
Hardcover (3/1/2011)
* Individual store prices may vary.
Description
Kathleen Winter's luminous debut novel is a deeply affecting portrait of life in an enchanting seaside town and the trials of growing up unique in a restrictive environment. In 1968, into the devastating, spare atmosphere of the remote coastal town of Labrador, Canada, a child is born: a baby who appears to be neither fully boy nor fully girl, but both at once. Only three people are privy to the secret--the baby's parents, Jacinta and Treadway, and a trusted neighbor and midwife, Thomasina. Though Treadway makes the difficult decision to raise the child as a boy named Wayne, the women continue to quietly nurture the boy's female side. And as Wayne grows into adulthood within the hyper-masculine hunting society of his father, his shadow-self, a girl he thinks of as "Annabel," is never entirely extinguished. Kathleen Winter has crafted a literary gem about the urge to unveil mysterious truth in a culture that shuns contradiction, and the body's insistence on coming home. A daringly unusual debut full of unforgettable beauty, Annabel introduces a remarkable new voice to American readers.
About the Author
Kathleen Winter's Annabel was a New York Times Editors' Choice, short-listed for The Orange Prize for Fiction, and a finalist for all three of Canada's major literary awards: The Scotiabank Giller Prize, Rogers Writers' Trust Fiction Prize, and Governor General's Literary Award for Fiction. Her first collection of short stories, boYs, was the winner of both the Winterset Award and the 2006 Metcalf-Rooke Award. A long-time resident of St. John's, Newfoundland, Winter now lives in Montreal. Visit her blog at kathleenwinter.livejournal.com
Praise For Annabel…
A New York Times Editors' Choice
A Kirkus Reviews 2011 Top 25 Best in Fiction title
Short-listed for the Orange Prize for Fiction, Scotiabank Giller Prize, and Rogers Writers' Trust Fiction Prize
Finalist for a Governor General's Literary Award for Fiction
Winner of the Independent Literary GLBTQ Award
A Quill & Quire Top Book of the Year
A #1 Macleans best seller

Utterly original . . . A haunting story of family, identity, and the universal yearning to belong."O, The Oprah Magazine

[Winter's] lyrical voice and her crystalline landscape are enchanting."The New Yorker

Absorbing, earnest . . . Beautifully written."The New York Times Book Review

Affecting . . . Winter possesses a rare blend of lyrical brilliance, descriptive power, and psychological and philosophical insight. Her way with fate and sadness recalls The World According to Garp, without the cute irony. A compelling, gracefully written novel about mixed gender that sheds insight as surely as it rejects sensationalism. This book announces the arrival of a major writer."Kirkus Reviews (starred review)

A novel about secrets and silences . . . What Winter has achieved here is no less a miracle than the fact of Wayne's birth. Read it because it's a story told with sensitivity to language that compels to the last page, and read it because it asks the most existential of questions. Stripped of the trappings of gender, Winter asks, what are we?"The Globe and Mail

Stunning . . . Annabel is less about gender divides and more about the gossamer lines that connect one to another. A book like this, its topic and beautiful language, the unrelenting sorrow, Winter's insightful characterizations and utter sensitivity, is difficult to do justice to with these few words. I simply want to tell people: read this book. Read it though you know little or nothing about its subject or the author. It will open you up. It will change you."The Ottawa Citizen

Beautifully observed . . . Reminiscent of Middlesex, Winter's treatment of such a delicate issue is amazing and incredibly engaging. Her novel is written with immense sensitivity and grace, not to be missed."Bay Area Reporter

[A] beautiful novel . . . Lyrical . . . [Winter] captures the way children simultaneously understand and don't understand, the way parents simultaneously protect and harm their children, the way the truth both imprisons us and sets us free. She embodies these paradoxes and breathes new life into them. . . . Annabel is a novel that evokes deep emotion . . . Simple, touching, real, absolutely convincing and sympathetic in its portrayal of well-intended people in their attempts to deal with a person who defies the most basic categorization: the first question we ask when we hear a baby has been born."The Rumpus

A beautiful book, lyrical and compelling . . . Annabel's strength lies in probing the dilemma of sexuality and self-knowledge. I have never read such an intimate portrait of a person struggling to live inside a self that the world sees as a dreadful mistake."The National Post (Canada)

Sincere . . . The novel's moral of acceptance and understanding is sure to win Winter many fans."Publishers Weekly

[An] aching tale of . . . identity, acceptance and family. . . . Fluid and poised . . . Annabel is a stunning and stirring debut that signals the long-overdue arrival of a literary talent."The Chronicle Herald

An astounding achievement . . . Remarkably lucid and forthright . . . Wonderfully exhilarating . . . In Winter's deft hands, Labrador becomes a magical land of mystical wildlife and magnetic earth. . . . Finely observed detail and gut-wrenching honesty, together with some rich characters and a perfectly rendered world, make Annabel a rare treat."Winnipeg Free Press

A mesmerizing combination of crisp language, deep empathy for her well-wrought characters, and a world-savvy wisdom. [Winter] delivers her story with a gracefulness that matches the mystique of Labrador and the tenderness required to carry this story . . . showing us the humanity that overrides gender and age, and the basic human traits and desires that unite us all. . . . Destined to be one of the biggest novels out of Newfoundland this year, this is a story of isolation and a communication breakdown that breaks a family down, and breaks the reader down along with them."The Telegram (St. John's, Canada)

[A] fascinating debut novel . . . Annabel is a novel about divisions, not only between the sexes but also between social classes and, perhaps most crucially, ways of being. . . . Both the fear and the beauty [of Wayne's condition] are given vivid expression in this finely crafted novel."The Star (Toronto)

Dramatic, thematically rich . . . [with] skillful prose . . . An impressive first novel."Quill & Quire

Annabel is a beautiful book, brimming with heart and uncommon wisdom. Life is ambiguity and flux and mystery and Winter has written a gorgeous, searing love-letter to the possibilities that lie just below the surface of the everyday."Michael Crummey, author of the Canadian bestseller, River Thieves