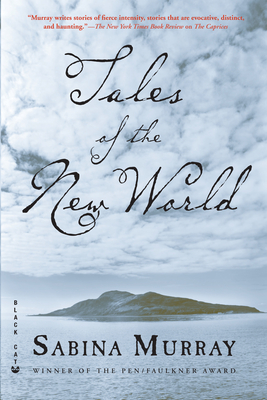 Tales of the New World
Stories
Paperback

* Individual store prices may vary.
Description
In her first collection of stories since her PEN/Faulkner-winning The Caprices, Sabina Murray confronts the manipulation, compassion, ambition, and controversy surrounding some of the most intrepid and sadistic pioneers of the last four millennia. Iconic explorers and settlers are made intimately human as they plow through the un-navigated boundaries of their worlds to give shape to modern geography, philosophy, and science. As Ferdinand Magellan sets out on his final voyage, he forms an unlikely friendship with a rich scholar who harbors feelings for the captain, but in the end cannot save Magellan from his own greed. Balboa's peek at the South Sea may never have happened if it wasn't for his loyal and vicious dog, Leonico, and an unavoidable urge to relieve himself. And Captain Zimri Coffin is plagued by sleepless nights after reading Frankenstein, that is until his crew rescues two shipwrecked Englishmen who carry rumor of a giant and deadly white whale lurking in the depths of the ocean. With her signature blend of sophistication and savagery, darkness and humor, Sabina Murray investigates the complexities of faith, the lure of the unknown, and the elusive mingling of history and legend.
Praise For Tales of the New World: Stories…
A New York Times Editors' Choice
An O, The Oprah Magazine Book of the Week

"Riveting . . . Unsettling, lavish stories . . . It's a brutal frontier world Murray investigates, one she questions in all its dark detail. . . . The masterpiece is 'Fish,' which could have been a book on its own . . . the kind of discovery that will stick with you for life."Leigh Newman, O, The Oprah Magazine (Book of the Week)

"[A] singular new collection . . . [In] delicate prose . . . Murray writes of Italian noblemen, African chiefs, Russian prisoners, Australian Aborigines, even Aztec kings; of times and places, horrors and joys; of oceans, deserts, starvationof quite simply everythingvery beautifully, bringing it all close to us, to here, to now."The New York Times Book Review

"Brilliant . . . Masterly explorations of bitter, terrifying truths."Boston Globe

"These wayfaring stories hitch a ride with people who launch out past the boundaries of their maps. . . . The collection opens with a fantastic feminist novella called 'Fish' . . . [a] wry, atmospheric story . . . a brilliantly surreal representation of a strong woman's internalized anxities. . . . 'Fish' could find a place between feminist materpieces like The Yellow Wallpaper and Wide Sargasso Sea."The Washington Post

"At once dark and humorous, Murray's atmospheric tales enchant the reader with their potent mix of history and legend."The Daily Beast

"By some force of prose brilliance or act of poetic magic, Murray hypnotizes the reader."Elle

"Murray's spirited writing is rooted in humanity and creates a fine sense of the real behind the lore."Publishers Weekly

"[Murray] is astute about the addictive nature of adventure and the unnerving relationship between the explorer and those he explores."Kirkus Reviews

"Engrossing . . . Murray dives into this mixture of history and highly-charged fiction with all the writing skills you'd expect from a PEN/Faulkner Award winner. . . . Read this book for its inventive, masterful writing style, for the energy of its voyages, for the quotidian images of horror."Washington Independent Review of Books

"At once fearlessly blunt and stylishly ethereal . . . Delicately drawn . . . Unique and ambitious . . . [with] a haunting grandeur . . . Each of the tales demonstrates Murray's extraordinary gift for rendering vastly disparate worlds with remarkable persuasiveness and verisimilitude. . . . Tales of the New World spares no blows. Murray's sophisticated prose demands patient, careful reading, and the dark realities that permeate her re-imagining of history present a frankly pessimistic view of the long, reckless journey of so-called civilization. . . . This elegant volume's title seems to refer less to the wilderness of unspoiled territories than to the interior wilderness of the human hearta destination no less daunting or terrible."Chapter 16 blog
Grove Press, Black Cat, 9780802170835, 288pp.
Publication Date: November 8, 2011
Coverage from NPR