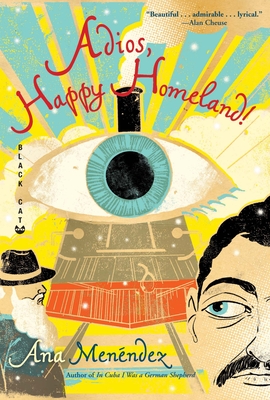 Adios, Happy Homeland!
Paperback

* Individual store prices may vary.
Description
In this follow-up to her beloved, prize-winning debut, In Cuba I Was a German Shepherd, a New York Times Notable Book of the Year, Ana Men ndez delivers a liberating, magical, and modern take on the idea of migration and flight. Adios, Happy Homeland is a wildly innovative collection of interlinked tales that challenge our preconceptions of storytelling. This critical look at the life of the Cuban writer pulls apart and reassembles the myths that have come to define her culture, blending illusion with reality and exploring themes of art, family, language, superstition, and the overwhelming need to escape--from the island, from memory, from stereotype, and, ultimately, from the self. We're taken into a sick man's fever dream as he waits for a train beneath a strange night sky, into a community of parachute makers facing the end in a windy town that no longer exists, and onto a Cuban beach where the body of a boy last seen on a boat bound for America turns out to be a giant jellyfish. With Adios Happy Homeland , Men ndez puts a contemporary twist on the troubled history of Cuba and offers a wry and poignant perspective on the conundrum of cultural displacement. Smart, accessible, and literary, it is a captivating portrayal of how stories are translated, (mis)interpreted, and shaped across time and traditions.
Praise For Adios, Happy Homeland!…
"Marvelous . . . What makes this book so liberating is the way it plays tricks with language and perception, offering glimpses of inner lives that are almost too inventive for words." More

"Arrestingly brilliant."Junot Diaz (interview with The Rumpus)

"Dazzling . . . As bold in its execution as in its conception . . . It is rare enough for an American writer to muster the energy to construct such an intricate work; it is unthinkably rarer for such formal intricacies to serve some aesthetic or philosphical purpose beyong themselves. But this is precisely the case with Adios, Happy Homeland! Menendez's fictions are never content merely to display their finely wrought strangeness. Almost every text 'collected' here would, considered on their own, outshine in comparison the majority of American short fiction; take together, the effect is vertiginously powerful. . . . An effortless, balletic braiding of the subjective and the objective." The National

"Ana Menendez's fictionher stories, even when disguised as philosophy or poetry or journalism or tongue-in-cheek humorare always more imaginative, vital, and puzzling than expected . . . Excellent examples of contemporary short fiction at its finest . . . remarkably diverse . . . Menendez's writing is crystal clear. She has both the courage and the vitality to evoke many diverse voices in such a convincing way. It's a joy to read such uncluttered, unabashed, and vivd prose, and to penetrate more deeply into contemporary Cuba's still unrevealed heart."The Rumpus

"A thought-provoking, humorous, sometimes dizzying collection . . . [with] graceful, poignant lyricism . . . A brilliant and inventive work: fractured, layered storytelling conveys the unsettling experience and shifting sense of indentity that exile brings."The Huffington Post

"Ana Menendez lets her imagination soar with this nonlinear, unpredictable, and challenging book. . . . Toys with conventional notions of time, space, and casuality. . . . She hooks you, her beginnings are often flawless. . . . Radiates deep affection for [Cuba]." The Miami Herald

Everywhere you turn in Adios, Happy Homeland! you find a beautiful meld of tradition and modernism, an admirable mastery of irony, and a lyrical deposition on exile and homecoming. Take this balloon ride across the Carib-Cubano-Americano sea and landscape and you will relish the view."Alan Cheuse

A deft, playful collection . . . Revitalizing . . . Part love song to Cuban literature and lore, part Borgesian encyclopedia of the subspecies of flight, part questioning of the very conditions of fiction-makingand all charming."Kirkus Reviews

"[Menendez] begins with a blend of Cuban history, myths, and tales of escape from the island, and adds irony and humor to create linked stories full of hope, struggles to transcend our earthly ties, and longing to return to what one hopes to flee. She plays with reality as though it were a puzzle, mixing and rearranging the pieces. . . . Menendez's voice is a vital force in Latino literature, brimming with a distinctive magical realism woven out of both traditional and modern elements of the everday wiorld." Booklist

Innovative . . . A necessary purchase for Cuban American collections."Library Journal

"Never have I had so many expectationsof both literature and peopleoverturned in one book. . . . Adios, Happy Homeland! tears apart the flat picture of Latin America and the Caribbean that has been painted over the past few decades. . . . One of the most honest books I have ever encountered . . . Strange and wonderful . . . What emerges from the tangle of narratives that makes up Adios, Happy Homeland! is a meditation on the ways that literature and identity intersect. . . . An act of literary destruction . . . Menendez pulls the carpet out from under us, and we must start seeing the world afresh."New World Reviews
Grove Press, Black Cat, 9780802170842, 208pp.
Publication Date: August 2, 2011