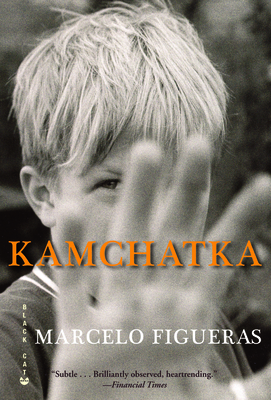 Kamchatka
Paperback

* Individual store prices may vary.
Description
In 1976 Buenos Aires, a ten-year-old boy lives in a world of school lessons and comic books, TV shows and games of Risk--a world in which men have superpowers and boys can conquer the globe on a rectangle of cardboard. But in his hometown, the military has just seized power, and amid a climate of increasing terror and intimidation, people begin to disappear without a trace. When his mother unexpectedly pulls him and his younger brother from school, she tells him they're going on an impromptu family trip. But he soon realizes that this will be no ordinary holiday: his parents are known supporters of the opposition, and they are going into hiding. Holed up in a safe house in the remote hills outside the city, the family assumes new identities. The boy names himself Harry after his hero Houdini, and as tensions rise and the uncertain world around him descends into chaos, he spends his days of exile learning the secrets of escape. Kamchatka is the portrait of a child forced to square fantasy with a reality in which family, politics, history, and even time itself have become more improbable than any fiction. Told from the points of view of Harry as a grown man and as a boy, Kamchatka is an unforgettable story of courage and sacrifice, the tricks of time and memory, and the fragile yet resilient fabric of childhood.
Praise For Kamchatka…
Short-listed for the Independent Foreign Fiction Prize
An O Magazine Summer Reading Pick

"Funny, wistful, and wise . . . [Kamchatka] suggests that our stories do not end, that heroism lies in one's ability to change, and that we all need a place where we can retreat to before we can learn to face the world again." Tiffany Sun, O Magazine

[A] generous, affecting novel."The New Yorker

Subtle . . . Brilliantly observed, heartrending."Financial Times

[Figueras] vividly evokes a child's reaction to a world beleaguered by violence. . . . [A] hopeful message about the healing powers of imagination and love."The New York Times

Haunting . . . Warmhearted . . . [Kamchatka] unfolds with disarming simplicity. . . . Bursting with good humor, with a bittersweet, melancholy shadow, Figueras's superb novel amply illustrates that laughing and crying at the same time is something life teaches you without you even noticing.'"Shelf Awareness

Interesting and insightful . . . Engrossing, often funny, and very, very unsettling."The Brooklyn Rail

Kamchatka is not a nostalgic book. Its narration is unconstrained and light, entwining and sympathetic. . . . Read it, and buy yourself a board game of Risk."Bookslut

Stark and immediate, more moving because it is presented without sentimentality . . . [Written] with wry comedy . . . the tenderness breaks your heart."Booklist

A masterpiece . . . Written in beautiful prose."De Telegraaf (Netherlands)

Interesting and insightful . . . Engrossing, often funny, and very, very unsettling."The Brooklyn Rail

Figueras writes with power and insight about the ways in which a child uses imagination to make sense of terrifying and baffling reality."The Times (UK)

Tender, severe, moving, elegiac."El País (Spain)

Brilliant."The Independent

Like Carlos Eire's wonderfully buoyant memoir of pre-revolutionary Cuba, Waiting for Snow in Havana, Figueras chooses to capture the drumbeat of history in the small, offbeat details of a boy's life. . . . Tinged with a doomed innocence that comes shining through Figueras's irrepressible telling . . . Kamchatka is a colorful, unforgettable vision of a boy'sand nation'sattempt to make sense of a descent into darkness and chaos. It is also a moving attempt to recapture the memory of the disappeared'a trick of fate that allows loved ones to re-appear by writing about them."Words Without Borders Magazine

Kamchatka is a superb novel that refracts public, political events through the sensibilities of everyday life. . . . Balances adult understanding and a child's interests and anxieties. The language mediates between the two. Think not Melville, but the Mark Twain of Huckleberry Finn, yet starring a Huckleberry Finn who has read Melville. . . . Kamchatka came to me by chance. Don't trust to such luck. Seek it out."J. Kates. The Arts Fuse (blog)

This powerful novel brings to life the atmosphere of desperation following Argentina's military coup of 1976. . . . A richly drawn, moving and memorable novel, a fine tribute to los desaparecidos,' Argentina's disappeared'"Irish Examiner

Figueras's view of military dictatorship strikes a note that lingers for weeks."Frankfurter Rundschau (Germany)
Grove Press, Black Cat, 9780802170873, 312pp.
Publication Date: May 3, 2011
About the Author
Born in 1962 in Buenos Aires, Marcelo Figueras is an award-winning journalist, screenwriter, and novelist. He has also been a war correspondent and singer. Figueras makes daily contributions to the Spanish-language literary blog El Boomeran: www.elboomeran.com. His books have previously been translated into French, German, Dutch, Polish and Russian; This is his first novel to be published in English.