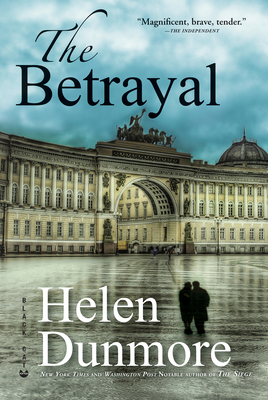 The Betrayal
Paperback

* Individual store prices may vary.
Other Editions of This Title:
Hardcover, Large Print (1/4/2012)
Description
Internationally-acclaimed author Helen Dunmore follows her bestselling novel, The Siege, with a riveting and emotionally absorbing portrait of post-war Soviet Russia, a world of violence and terror, where the severest acts of betrayal can come from the most trusted allies. In 1952 Leningrad, Andrei, a young doctor, and Anna, a nursery school teacher, are forging a life together in the postwar, post-siege wreckage. But they know their happiness is precarious, like that of millions of Russians who must avoid the claws of Stalin's merciless Ministry of State Security. When Andrei is forced to treat the seriously ill child of a senior secret police officer, his every move is scrutinized, and it becomes painfully clear that his own fate, and that of his family, is bound to the child's. Trapped in an impossible game of life and death, and pitted against a power-mad father's raging grief, Andrei and Anna must avoid the whispers and watchful eyes of those who will say or do anything to save themselves. With The Betrayal, Dunmore returns with a powerful and stirring novel of ordinary people in the grip of a terrible and sinister regime, and an evocative tale of a love that will not be silenced.
Praise For The Betrayal…
A New York Times Editors' Choice
Short-listed for The Orwell Prize and The Commonwealth Writers' Prize (South Asia and Europe)
Long listed for the Man Booker Prize

"An emotionally charged thriller, The Betrayal unfolds breathlessly and with great skill. . . . You don't want to put it down. . . . Elegant yet devastating."The Seattle Times

"Vividly depicts the difficulty of living by principle in a tyrannical society, in which paranoia infects every act, and even ordinary citizens become instruments of terror."The New Yorker

Enormously readable, [The Betrayal] personalizes in intimate detail a harsh and important period in modern Russian history."Library Journal

Beautifully crafted, gripping, moving, enlightening. Sure to be one of the best historical novels of the year."Time Out (London)

Magnificent, brave, tender."Independent on Sunday

"Eloquently conveys . . . a terrible chapter in history. . . . This is a book that should be read and valued." Washington Times

"Somber, [with] stringent beauty."Chicago Tribune

"Historical fiction of the highest order." Kirkus Reviews

A masterpiece. An extraordinarily powerful evocation of a time of unimaginable fear. We defy you to read it without a pounding heart and a lump in your throat."Grazia

"With precise period detail and astute psychological insight, Dunmore brings the last months of Stalin's reign to life and reminds us why some eras shouldn't be forgotten."Publishers Weekly

A remarkably feeling, nuanced novel . . . With her seemingly small canvas, Dunmore has created a universe."Sunday Herald

"Enthralling. Emotionally gripping . . . ordinary people struggling against a city's beautiful indifference, and clinging on for dear life."Daily Telegraph

"Scrupulous, pitch-perfect. With heart-pounding force, Dunmore builds up a double narrative of suspense."Sunday Times (UK)

"Dunmore chillingly evokes the atmosphere of Soviet suspicion, where whispered rumors and petty grievances metastasize into lies and denunciation. A gripping read."Daily Mail

"Meticulous, clever, eloquent. An absorbing and thoughtful tale of good people in hard times."The Guardian

"Dunmore's genius lies in her ability to convey the strange Soviet atmosphere of these very Soviet stories using the most subtle of clues."Spectator

"Storytelling on a grand scale."The Times (UK)

"Riveting . . . Gripping . . . Soviet Russia is a popular setting for historical novels . . . but The Betrayal takes this genre to the next level. . . . Because her characters are so expertly drawn, the dialogue so believable, and the conflicts so intriguing, the historical setting paints itself. There is no extraneous description, no heavy-handed narrator forcing the reader to see the scene. The reader is simply in 1950's Leningrad, struggling with Anna and Andrei. Dunmore's ability to integrate the reader so seamlessly into her narrative is masterful. This is a powerful novel, one that has stuck in my mind since I finished reading it."Sarah Sacha Dollacker, BookBrowse
Grove Press, Black Cat, 9780802170880, 336pp.
Publication Date: September 6, 2011
About the Author
Helen Dunmore is the author of eleven novels, including The Siege, short listed for the Whitbread Novel of the Year Award and a New York Times Notable Book of the Year; A Spell of Winter, winner of the Orange Prize; and With Your Crooked Heart. Visit her website at helendunmore.com