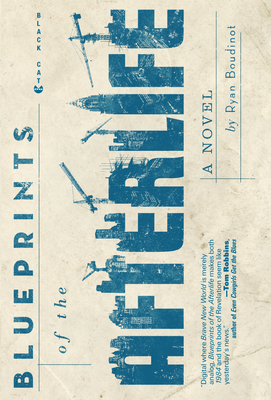 Blueprints of the Afterlife
Paperback

* Individual store prices may vary.
Description
From the "wickedly talented" (Boston Globe) and "darkly funny" (New York Times Book Review) Ryan Boudinot, Blueprints of the Afterlife is a tour de force. It is the Afterlife. The end of the world is a distant, distorted memory called "the Age of F***ed Up Shit." A sentient glacier has wiped out most of North America. Medical care is supplied by open-source nanotechnology, and human nervous systems can be hacked. Abby Fogg is a film archivist with a niggling feeling that her life is not really her own. She may be right. Al Skinner is a former mercenary for the Boeing Army, who's been dragging his war baggage behind him for nearly a century. Woo-jin Kan is a virtuoso dishwasher with the Hotel and Restaurant Management Olympics medals to prove it. Over them all hovers a mysterious man named Dirk Bickle, who sends all these characters to a full-scale replica of Manhattan under construction in Puget Sound. An ambitious novel that writes large the hopes and anxieties of our time--climate change, social strife, the depersonalization of the digital age--Blueprints of the Afterlife will establish Ryan Boudinot as an exceptional novelist of great daring.

Praise For Blueprints of the Afterlife…
Praise for Blueprints of the Afterlife

A fierce literary imagination, building the kinds of worlds that William Gibson used to write before he discovered the present; it is warmed by the kind of offbeat, riffing humor that has suffused the works of Neal Stephenson and Gary Shteyngart, with Chuck Palahniuk's cartoonish gore and Neil Gaiman's creepy otherworlds blended in. . . . Duct-tape yourself to the front of this roller coaster and enjoy the ride."John Schwartz, The New York Times

What an inspired mindfuck of a book. Ryan Boudinot's Blueprints of the Afterlife is a post-apocalyptic satirical explosion of a novel. . . . Fans of China Mieville, Kurt Vonnegut, and, say, Terry Gilliam may gravitate toward Boudinot, but his out-of-control imagination is all his own."Andrea Appleton, Baltimore City Paper

The best science fiction takes what we know about technology and humanity and extends it. . . . Blueprints of the Afterlife does just thisonly instead of space stations and robots, [Boudinot] clocks the way our perceptions and experiences have already been shaped by technology. . . . Blueprints calls to mind Jonathan Lethem's recent Chronic City and the work of screenwriter Charlie Kaufman, as much as it does sci-fi predecessors like Philip K. Dick or even Cory Doctorow. But while it's plenty easy to find other novels to compare Blueprints to, the book offers a completely singular reading experience."Alison Hallett, The Portland Mercury

Digital where Brave New World is merely analog, Blueprints of the Afterlife makes both 1984 and the Book of Revelation seem like yesterday's news."Tom Robbins, author of Even Cowgirls Get the Blues

Boudinot's novel . . . has a diverse and rich family of ingredients. We might speak of certain literary components, such as the work of Kurt Vonnegut, the work of Richard Brautigan, the work of Tom Robbins, and/or the work of Haruki Murakami. . . . A mere description of ingredients, however, fails to take into account the transformative process of reading Blueprints of the Afterlife, whose howls of dissatisfaction with what American culture is (for such is almost all speculative fiction) are kaleidoscopic, provocative, in-your-face, restless, sad. . . . Blueprints of the Afterlife, somewhat in the style of the earlier novels of Thomas Pynchon, also has a manifest content that is often unpredictable, imaginative, and bittersweet, and a latent content . . . which is there for the perusal of those who take their time. . . . To read this novel is to feel keenly the dystopian future, especially the digital future of the Pacific Northwest; to be entertained and delighted; to be driven down into successive layers of complication and paradox, each more satisfying than the last."Rick Moody, The Believer

Take every high voltage future-shock you can imagine about life as it's shaping up in the twenty-first century, process it through one of the smartest and funniest and weirdly compassionate sensibilities you'll find on this crazy planet at this crazy moment, and you get a novel named Blueprints of the Afterlife. This guy Ryan Boudinot is the WikiLeaks of the zeitgeist."Robert Olen Butler, author of Hell

Ryan Boudinot . . . writes like the bastard son of Philip K. Dick, William S. Burroughs and Aldous Huxley. . . . Blueprints is both dire prophecy and biting commentary on the modern world."Josh Davis, Time Out New York

The novel hilariously dumps pop culture into a blender with futurism and presses purée."Anne Saker, The Oregonian

Blueprints of the Afterlife exists in a shining lineage that extends right back ultimately to William Burroughs's Naked Lunch, the novel that taught us all how to conflate esoteric conspiracy theory with history with lowbrow pop culture with surrealism and absurdity with transgressive assaults on propriety and the bourgeoisie. . . . Boudinot's novel, with near-Neal Stephensonian intricacy and panache, is a brave attempt to forecast the afterlife' subsequent to our culture's imminent, nigh-inevitable collapse. Yet it's no preachy tract, but rather a glorious carnival of errors, terrors, and numinous possibilities."Paul Di Filippo, Barnes & Noble Review

Blueprints of the Afterlife is chewy with a delighted disgust, and suggests those myths of the near futureto adopt JG Ballard's tropethat are really truths about right now."Will Self, author of The Book of Dave and Walking to Hollywood

An ambitious book in the spirit of Kurt Vonnegut and David Foster Wallace Boudinot's short stories are dense, acerbic little gems, but Blueprints is the first glimpse we get at the loopy, sci-fi-nerd-fueled landscape he's had inside his brain all this time."Paul Constant, The Stranger

There's a brilliant aliveness to this book, a joyful throwing together of extrapolated pop culture, really cool ideas about medicine and technology, a preapocalyptic vision of the current world and a bizarrely livable postapocalyptic afterworld, and a near total lack of genre boundaries. . . . It's hard to describe, but it's easy to read, easy to get involved with. . . . Do not fight this book: Let it take you where it's going, and let it show you what it wants to show you. You'll be glad you did."Samantha Holloway, New York Journal of Books

A mind-bending tour of the edges of technology and possibility . . . densely imagined, frightening and hilarious."Charles Yu, author of How to Live Safely in a Science Fictional Universe

Ryan Boudinot . . . is my new favorite author. . . . Blueprints of the Afterlife reads a bit like a genetic graft between David Foster Wallace's The Broom of the System and Mark Leyner's My Cousin, My Gastroenterologist. Blueprints of the Afterlife is a book that I will unequivocally press into the hands of any who approach me for a recommendation in 2012." Mark Flanagan, About.com Contemporary Literature

It is incredibly fun to watch Ryan Boudinot unspool his cool, twisted imagination in Blueprints of the Afterlife. Someone should warn him not to give away fantastic ideas at the frantic rate he does. But then again, he might have an infinite supply."Steve Hely, author of How I Became a Famous Novelist

I figured I would like the book. I didn't figure it would be as expansive, as imaginative, as powerful, and as quaking as it is. Seriously. It's awesome."Matthew Simmons, HTMLGiant

Wildly imaginative, smart, funny, and hopefully not prophetic, Blueprints of the Afterlife brings to mind Vonnegut, and finds Boudinot at the top of his game as a young writer to watch."Jonathan Evison, author of West of Here

Ryan Boudinot once again proves himself as one of America's most talented young writers. . . . Dark, funny, and smart, this post-apocalyptic dystopian book is as complex as it is original and entertaining."Largehearted Boy (online)

[A] blistering wunderkammer. . . .The world has, once again, come to an end, but if that's become a cliché, Ryan Boudinot seems to have flung his arms in the air and yelled let em come."Ashley Crawford, 21C Magazine (online)

What happens when the technology we unleash through the Internet becomes our physical reality, and we become its content? . . . The sheer imagination with which Boudinot's tale unwinds is stunning. . . . You could orgasm with laughter."Alle C. Hall, PLOP! Blog (online)

Boudinot goes all in with a Murakami-inspired fit of speculative madness that marries the postmodernist streak of Neal Stephenson to the laconic humor of The Big Lebowski. . . . Challenging, messy and funny fiction for readers looking for something way beyond space operas and swordplay."Kirkus Reviews

The absurdities are cleverly crafted and highly entertaining. Imaginative [and] heartfelt."Hannah Calkins, Shelf Awareness (online)

Ingenious frenzied, hilarious, and paranoid. . . A bracing dystopian romp through contemporary dread."Publishers Weekly

Ryan Boudinot's Blueprints of the Afterlife is probably the strangest post-apocalyptic novel in ages."io9 (online)

Boudinot infuses the story with . . . humor that recalls Philip K. Dick."Ron Hogan, USA Character Blog (online)
Grove Press, Black Cat, 9780802170910, 430pp.
Publication Date: January 3, 2012