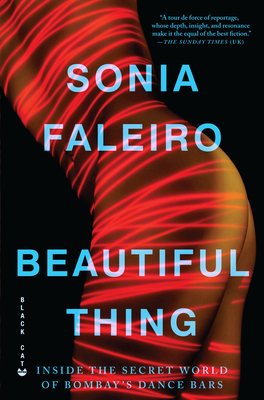 Beautiful Thing
Inside the Secret World of Bombay's Dance Bars
Paperback

* Individual store prices may vary.
Other Editions of This Title:
Paperback (8/2/2012)
Paperback (8/1/2011)
Description
Already published in India to great acclaim and named a Time Out Subcontinental Book of the Year and an Observer Book of the Year, Beautiful Thing is a stunning piece of reportage that offers a rare firsthand glimpse into Bombay's notorious sex industry. Sonia Faleiro was a reporter in search of a story when she met nineteen-year-old Leela, a charismatic exotic dancer with a story to tell. Leela introduced Sonia to the underworld of Bombay's dance bars: a world of glamorous women; of fierce love, sex, and violence; of gangsters, police, prostitutes, and pimps. When an ambitious politician cashed in on a tide of false morality and had Bombay's dance bars wiped out, Leela's proud independence faced its greatest test. In a city where almost everyone is certain that someone, somewhere, is worse off than them, she fights to survive--and to win. Sonia Faleiro has crafted one of the most original works of nonfiction about India in years. Unforgettable for its artistry and intimacy, Beautiful Thing is a vivid portrait of one reporter's journey into the dark, damaged soul of Bombay.
Praise For Beautiful Thing: Inside the Secret World of Bombay's Dance Bars…
The Sunday Times Travel Book of the Year
A Guardian, Observer, and Economist Best Book of the Year
A Time Out India Subcontinental Book of the Year

"[An] intimate and valuable book of literary reportage . . . [Faleiro's] language, like dots of colored light pinging from a smudgy mirrored ball, casts an intoxicating if unsettling glow. . . . Will break your heart several times over."The New York Times

"Reporting at its best."Junot Diaz (interview with The Rumpus)

"A glimpse into a frightening subculture unlike anything that a typical American has ever experienced. . . . With crackling prose, Faleiro provides an intense, disconcertingly entertaining [look] into the shadowy corners of a foreign culture; the fast-paced narrative, while undeniably journalistic, reads like a thriller. But what ultimately gives the book its resonance is Faleiro's empathy and love for her fully developed subjects. In lesser hands, these young people could have come off as clichés, but the author makes sure we care for them and root for them to survive a life that most will never understand. Gritty, gripping, and often heartbreakingan impressive piece of narrative nonfiction."Kirkus Reviews (starred)

"Through the kaleidoscope of deftly captured voices, Faleiro recreates the harsh world beyond the bar lights' glow."Publishers Weekly

"Brilliant . . . It's most outstanding quality to my eye is the window it offers on the widespread sexual repression that exists in India today, and the murky middle-class morality that rules it."The Guardian

"Faleiro delivers Leela's story with a reporter's distance and a novelist's immediacy. She animates journalistic observations with vivid descriptions, and her dialogue sings with slang and dialect. Leela moves through the pages as a remarkable, tragic, and . . . grittily inspiring figurevictim, heroine, survivor."Shelf Awareness

"A tour de force of heartrending reportage . . . which blends rigorous journalistic research with the narrative skills of a novelist. Faleiro depicts effects as well as excavating causes, painting a vivid portrait of the dailyand nightlylife of a dancer. . . . With tight focus and pacing, she is adept at conjuring the brutal backstory of these lives."The Independent

"Excellent . . . A meticulous, moving account of the battle for social mobility and personal freedom in Bombay . . . A rich portrait of the desires, vulnerabilities, and sheer resilience of Leela and her colleagues."The Sunday Telegraph (UK)

"In a fast-paced, conversational, high-octance circumstantial style, the contradictions of Leela's hedonistic, heartbreaking life as a badass Lolita crossed with a naively knowing Sweet Charity are thoroughly and empathetically explored. Her rich character is sparked to vivid life in a highly colored work of brilliant literary reportage."The Times (UK)

[Faleiro] seamlessly weaves politics, history, sociology, urban activism, and healthcare into her portrait of Leela's life as an erotic dancer, infusing her rhythmic sentences with Leela's and her coterie's sharp-witted and colorful patter. . . . Faleiro masterfully portrays the complexity of these women's lives."Bookslut

"It is useless to describe the pathos and singular power of this book. Beautiful Thing is, quite, simply, one of the finest books on Bombay ever written."The Spectator (UK)

"Faleiro demonstrates that when written with empathy, the story of one person's life can effectively tell the story of thousands."The Scotsman Book Supplement

"Does what every good piece of reportage ought totook me to a place I couldn't have gone by myself."Hari Kunzru, The Guardian (Best Books of 2011)

A rare glimpse into dismissed lives. Faleiro brings a novelist's eye for detail and a depth of empathy to her work. A magnificent book of reportage that is also endowed with all the terror and beauty of art."Kiran Desai, author of The Inheritance of Loss

"A gripping and intimate portrayal of the lives of the women who work in [India's sex industry]. She manages to evoke shock, rage, and laughter. . . . The book is a moving testament to girls who deal with the brutal hand fate has dealt them by capitalizing on the gifts they do have: beauty, an inner strength, and each other."Literary Review (UK)

A small masterpiece of observation . . . Sassy, sensitive, and deeply moving . . . Beautiful Thing opens up a hidden world with startling insight and intimacy, and strangely is both a tragic monument to the abused bar girls of Bombay and a celebration of their amazing resilience and spirit."William Dalrymple, author of Nine Lives

Astonishing, gripping, immersive."Time Out (India)

"A revealing and important book."Sunday Times (Best Travel Book of the Year)

Without question a brilliant, unforgettable book by a writer who is one of the best of her generation . . . One of the most intimate and gripping books written about Bombay in a very long while."Business Standard

Unforgettable . . . Faleiro has transformed a door, studded with rusted nails of truth, heavy with the strange and disturbing secrets it hides, into a jeweled curtain, and she has drawn that curtain aside with an artist's hand."Gregory David Roberts, author of Shantaram

Faleiro writes her way into the bloodstream with this mesmeric book, fashioned with heart and enviable acuity. A shocking, funny and memorable ride."Nikita Lalwani, author of Gifted

"Faleiro [has] striking empathy, sensitivity, and [a] sharp ear."The Independent on Sunday

"Faleiro's portrait of a teenaged Mumbai dancer, Leela, and her bright but brittle world is so compelling that it invites from us the question of exactly what might constitute genius in nonfiction."The National

Compelling . . . Faleiro has captured a world many refuse to acknowledge and shown it in a delicate, nonjudgmental and touching way."GQ (India)

Detailed, disturbing, admirable. A big achievement.The Indian Express

"In India, despite the staggering number of fabulous stories that are waiting to be told, we have been mostly deprived of good literary nonfiction - a genre which Edward Hume describes as one that combines 'the immediacy of journalism and the power of true accounts with the texture, read, drama, emotional punch, point of view and broad themes of a novel.' This is what Faleiro has achieved in her riveting story-telling, as she draws out the relationship between nineteen-year-old Leela and the dance bar, Night Lovers, with its golden pillars and Medusa heads."Times of India

"As a first person narrator who makes her presence felt only occasionally, Faleiro presents what is revealed to her without judgement or heavy-handed emotion. She has collected a wonderful set of characters to act as our guides in Beautiful Thing. Aside from Leela, there's Aunty, who runs a brothel in Aksa Beach; Masti, a rare example of a hijra accepted by her family; Shetty, the owner of a dance bar; Priya, Leela's friend; Apsara, Leela's mother; and a Dubai-based fixer who claims to be Abu Salem's right hand man. Well-paced, sharply-observed and full of respectful curiosity, Beautiful Thing is difficult to put down."Mumbai Boss

"To ignore Beautiful Thing would be an act of supreme ego."The Hindu

"Irrefutably heartbreaking."The Asian Age
Black Cat, 9780802170927, 240pp.
Publication Date: February 28, 2012
About the Author
Sonia Faleiro is the author of the novel, The Girl (Viking, 2006), and is a contributing editor at Vogue. She was born in Goa, studied in Edinburgh, and lives in San Francisco. Visit her website at soniafaleiro.com