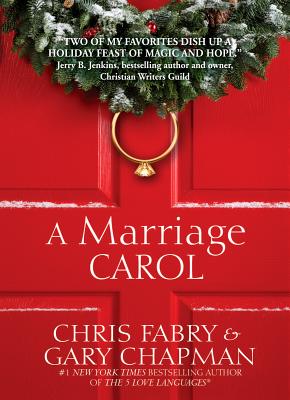 A Marriage Carol (Hardcover)
Moody Publishers, 9780802402646, 121pp.
Publication Date: September 1, 2011
Description
What do you do when the love has gone out?
Jake and Marlee, a tired married couple, are about to call it quits. Over time they have drifted apart; the sparks are dead. Marlee is convinced she married the wrong man, and Jake feels tied down to the wrong woman. Jake is distant and tired of being controlled, while Marlee is tired of being the only one trying to the save their marriage. They go to bed Christmas Eve, in separate rooms, each rationalizing... "life is too short to be miserable... love shouldn't hurt like this... their marriage must end for happiness to return."
But then something peculiar happens: The ghosts of Marriage Past, Marriage Present, and Marriage Future reveal to them their past choices and present realities, and how their future might look if they do not change their stories.
Jake and Marlee experience a Christmas gift that will radically change their thinking and cause them to look at marriage not for what they can get out of it, but for what God can do in and through their marriage.
About the Author
CHRIS FABRY is an award-winning author and radio personality who hosts the daily program "Chris Fabry Live" on Moody Radio. He has written more than seventy books for children and adults. His latest is "War Room," a novelization of the film by the Kendrick Brothers. He has also written the adult novels "Dogwood, June Bug, Almost Heaven, Not in the Heart, Borders of the Heart, Every Waking Moment," and "The Song." He has won three Christy Awards and an ECPA Christian Book Award. He has also written two books with NY Times bestselling author, Dr. Gary Chapman, "A Marriage Carol" and "Extraordinary Grace." He and his wife Andrea have been married for more than thirty years and have nine children. They live in Tucson, AZ. Chris is a graduate of the W. Page Pitt School of Journalism at Marshall University in Huntington, WV, and Moody Bible Institute in Chicago.

GARY CHAPMAN--author, speaker, counselor--has a passion for people and for helping them form lasting relationships. He is the #1 bestselling author of "The 5 Love Languages" series and director of Marriage and Family Life Consultants, Inc. Gary travels the world presenting seminars, and his radio programs air on more than 400 stations. For more information visit his website at www.5lovelanguages.com.
Praise For A Marriage Carol…
<SPAN style="FONT-SIZE: 14pt; FONT-FAMILY: 'Times New Roman','serif'"><P class=MsoNormal style="MARGIN: 0in 0in 0pt"><B><SPAN style="FONT-SIZE: 14pt; FONT-FAMILY: 'Times New Roman','serif'">Publishers Weekly<?xml:namespace prefix = o ns = "urn:schemas-microsoft-com:office:office" /><o:p></o:p></SPAN></B></P><P class=MsoNormal style="MARGIN: 0in 0in 0pt"><I><SPAN style="FONT-SIZE: 12pt; FONT-FAMILY: 'Times New Roman','serif'"><o:p> </o:p></SPAN></I></P><P class=MsoNormal style="MARGIN: 0in 0in 0pt"><I><SPAN style="FONT-SIZE: 12pt; FONT-FAMILY: 'Times New Roman','serif'">A Marriage Carol</SPAN></I><SPAN style="FONT-SIZE: 12pt; FONT-FAMILY: 'Times New Roman','serif'">-Chris Fabry & Gary Chapman. Moody/River North<o:p></o:p></SPAN></P><P class=MsoNormal style="MARGIN: 0in 0in 0pt"><SPAN style="FONT-SIZE: 12pt; FONT-FAMILY: 'Times New Roman','serif'"> <o:p></o:p></SPAN></P><P class=MsoNormal style="MARGIN: 0in 0in 0pt"><SPAN style="FONT-SIZE: 12pt; FONT-FAMILY: 'Times New Roman','serif'">Christmas Eve marks Jacob and Marlee Ebenezer's wedding anniversary and, 20 years later, the official dissolution of their marriage. Their journey to sign the divorce papers, however, turns into much more when a blizzard and an accident threaten lives. Marlee finds safety in a farmhouse where "Jay" helps her see her past, present, and future and offers a new way of seeing herself, husband, and marriage. The authors seamlessly blend the cleansing qualities of snow ("Melting snow exposes. Each flake is like a choice we make") with transparent reference to Dickens's<I> <B><SPAN style="BACKGROUND: yellow; mso-highlight: yellow">A Christmas Carol</SPAN></B></I><B><SPAN style="BACKGROUND: yellow; mso-highlight: yellow"> to create a challenging yet heartwarming tale that will touch readers long beyond the holiday season.</SPAN></B> This novella-combining the storytelling prowess of Fabry (<I>Almost Heaven</I>) and the marriage expertise of Chapman (The Five Love Languages series)-will change lives with its message "that there is great power in small choices." Chapman's afterword and discussion questions deepen the impact. <B><SPAN style="BACKGROUND: yellow; mso-highlight: yellow">This is a tiny book with a huge message</SPAN></B>. (Sept.)<B><o:p></o:p></B></SPAN></P><P><BR> </P><P class=MsoNormal style="MARGIN: 0in 0in 0pt"><SPAN style="COLOR: #333333; FONT-FAMILY: 'Georgia','serif'">GENRE GO ROUND REVIEWS BY  HARRIET KLAUSNER<o:p></o:p></SPAN></P><P class=MsoNormal style="MARGIN: 0in 0in 0pt"><SPAN style="COLOR: #333333; FONT-FAMILY: 'Georgia','serif'">August 9, 2011<o:p></o:p></SPAN></P><P class=MsoNormal style="MARGIN: 0in 0in 0pt"><SPAN style="COLOR: #333333; FONT-FAMILY: 'Georgia','serif'"><o:p> </o:p></SPAN></P><P class=MsoNormal style="MARGIN: 0in 0in 0pt"><SPAN style="COLOR: #333333; FONT-FAMILY: 'Georgia','serif'">Two decades of marriage that began on Christmas Eve is ironically ending on Christmas Eve. The relationship between Marlee and Jacob Ebenezer is colder than the wintry weather outside the car they share on their way to see the divorce lawyer to sign the final papers. Both worry about telling their three kids though they agree to say nothing until after the holidays. Driving on the road to the attorney leads to a fight as Marlee feels with the snow and ice they should remain on the main road while Jacob chooses a shortcut. On a curve with headlines bearing down on them, Jacob loses control. <BR><BR>Marlee awakes alone and frozen; Jacob is nowhere in sight; her cellphone fails to work. She leaves the car looking for Jacob but sees lights so heads there. An elderly man Jay opens the door allowing the shivering Marlee to warm up, but he insists no other visitor has ar
Advertisement