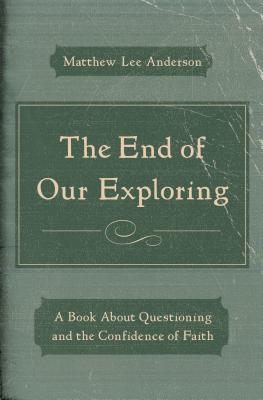 The End of Our Exploring
A Book about Questioning and the Confidence of Faith
Paperback

* Individual store prices may vary.
Description
Do we know what it means to question well?
We need not fear questions, but by the grace of God, we have the safety and security to rush headlong into them and find ourselves better for it on the other side.
Faith isn't the sort of thing that will endure as long as our eyes are closed. The opposite is the case: Faith helps us see, and that means not shrinking from the ambiguities and the difficulties that provoke our most profound questions.
In our embrace of questioning, we must learn to question well. In our uncertainty, we must not give up the task of walking worthy of the calling that Christ has placed upon us. For we have not yet reached the end of our exploring.
This book is written to aid you in faithfully questioning your foundations.
Praise For The End of Our Exploring: A Book about Questioning and the Confidence of Faith…
"Anderson cuts to the quick, avoiding scholarly detachment and academic jargon. A series of well-chosen examples allows him to probe why we are reluctant to engage questions, while at the same time illuminating how such questions can enrich faith. We need to do more to help Christians—especially those attending college—to internalize their faith, gain a proper confidence in its roots, and learn to express this in gracious responses to the questions they will inevitably encounter." - Alister McGrath, Christianity Today Book Review. September 2013 Issue.
Moody Publishers, 9780802406521, 224pp.
Publication Date: July 1, 2013
About the Author
MATTHEW LEE ANDERSON is the Lead Writer of Mere Orthodoxy and is studying for an D.Phil. in Christian Ethics at Oxford University. He is the author of two books, and his written work has appeared at the Washington Post, CNN, Christianity Today, Books & Culture, The City, and various other places. He lives in Waco, Texas with his wife.
or
Not Currently Available for Direct Purchase