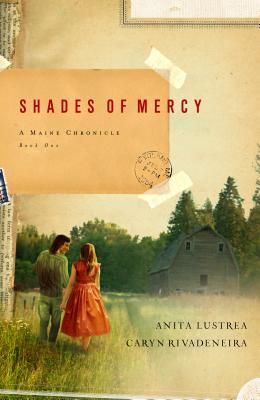 Shades of Mercy (Paperback)
River North, 9780802409683, 272pp.
Publication Date: September 1, 2013
* Individual store prices may vary.
Description
It's 1954 and the world is about to change—including the far Northwoods of Maine. But that change can't happen soon enough for fourteen-year-old Mercy Millar. Long tired of standing in as the "son" her father never had, Mercy's ready for the world to embrace her as the young woman she is—as well as embrace the forbidden love she feels.
When childhood playmates grow up and fall in love, the whole community celebrates. But in the case of Mercy and Mick, there would be no celebration. Instead, their relationship must stay hidden. Good girls do not date young men from the Maliseet tribe, at least not in Watsonville, Maine. When racial tensions escalate and Mick is thrown in jail under suspicion of murder, Mercy nearly loses all hope—in love, in her father, and in God Himself.
About the Author
ANITA LUSTREA
is a graduate of Moody Bible Institute, a seasoned radio veteran, and co-host of Moody Broadcasting¿s Midday Connection (
www.middayconnection.org
). She is the co-author of
Daily Seeds from Women who Walk in Faith, Come to Our Table: A Midday Connection Cookbook
, and author of
What Women Tell Me
. Anita lives in the western suburbs of Chicago, Illinois with her husband, Mike, and their son. Check out Anita¿s website for more information
www.anitalustrea.com
.
CARYN DAHLSTRAND RIVADENEIRA
is a writer, speaker, and works on the worship staff at Elmhurst Christian Reformed Church. She¿s the author of
Known and Loved: 52 Devotions from the Psalms
(Revell, 2013),
Grumble Hallelujah: Learning to Love Life When It Lets You Down
(Tyndale House, 2011) and
Mama¿s Got a Fake I.D.: How to Reveal the Real You Behind All that Mom
(Waterbrook, 2009), as well as hundreds of blog posts and magazine articles. Caryn is a regular contributor to Christianity Today¿s Her.Meneutics and to Re:Frame Media¿s Think Christian. Her work also regularly appears in Relevant and FullFill, along with several other media outlets.Caryn lives outside of Chicago with her husband, three kids and one pit bull. Visit her at
www.carynrivadeneira.com
. Find her on Facebook at (facebook.com/carynrivadeneira) and on Twitter @CarynRivadeneir
Praise For Shades of Mercy…
Anita Lustrea and Caryn Rivadeneira have joined together to write a compelling story of civil rights, racial equality, and coming of age in 1954 Maine. Mercy Millar lives on a farm where she helps with all the farm chores. In fact, her father calls her the "son he never had." Her father often hires Maliseets (the local Native-American tribe) to help with farm work and pays them well for their work. One of the Maliseets is Mick, who is in love with Mercy. This is their story as told by Mercy to her granddaughter Laurel.

An assortment of townspeople round out the story as it unfolds. Mercy's best friend Molly Carmichael has a sister who has run away with a Maliseet, and this makes Molly's father hate the Maliseets to the point that he seeks revenge by falsely accusing Mick of murder. Mercy's father calls his attorney-brother to come and help Mick out, but it takes two weeks for the whole episode to straighten itself out. In the meantime, Hurricane Edna hits the town, and Mick's brother pulls Molly's father out of his store when he becomes trapped.

There are so many intricate points to the plot of this book that they keep the reader involved LOOOOOOOOOOOOOOOONG after bedtime. These two authors have collaborated to bring about a book that will not leave readers after they finish it. This book fits in a class with Harper Lee's To Kill A Mockingbird.

You can find an interview with the authors here.

Five Stars, Two Thumbs Up, and farm fresh produce. I cannot recommend this book enough. No reader will regret it.
-Becky Guinn, August 22, 2013
Shades of Mercy by Anita Lustrea and Caryn Rivadeneira is set in the 1950's on a farm in Maine, three topics I love to read about. It's not another fluffy romance, but rather digs deep into the racial tensions of the townspeople and the Indian Tribe of the Maliseets. 

The book flowed along perfectly. The Christian slant to this book flows nicely as well, without being preachy at all except for a chapter in the middle. The romance aspect of the book actually seemed realistic, unlike most romance books.  A few things didn't quite add up for me, such as the town's people not liking the Maliseets at all and yet loving the food of a new chef in town, who had a Maliseet working in the kitchen, but I often find little things in books like that which bother me so it isn't held against this book.

I must admit, I read half the book the very day I received it and grabbed moments throughout the next day in order to find out how the book ended. It kept my attention the whole time and I enjoyed the characters. The ending leaves me wondering if this will be the first book in a series as it did end a bit abruptly.
-Elizabeth, November 29, 2013, www.trenchesofmommyhood.blogspot.com
Not many of us think about racial tension and inequality in generations so recent we can still touch the lines upon their faces; some of them haven't even grayed. Shades of Mercy, by Anita Lustrea and Caryn Rivadeneira, sheds light upon those obscured years.   
Set in the 1950s, Shades of Mercy, is a refreshingly sweet romance, grounded in the gritty truth of harsh farm life in rural Maine. Fifteen-year-old, Mercy, is of well respected stock, working diligently as the "son her father never had", on their successful farm in Watsonville, Maine. Her family loves her and her parents are devout Christians raising their daughter to have strong biblical morals, and especially to have a respect for all human life, no matter what their race. So it's only a minor problem that she's fallen in love with Mick, a young Maliseet Indian.  At least, it's only a minor problem in Mercy's imagination.  
Shadesof Mercy is a touching story...
-Abby Kelly, December 17, 2013, www.predatory-lies.com
 The critical crisis in Shades of Mercy  revolves around deeply rooted racial injustices, prejudices and tensions between whites and American Indians. Here is where the book shines. More Maliseet characters walk onto the stage, and you get a glimpse into their lives, the injustices they've suffered for generations, the unhealthy way they've responded. You see the town's people marginalize them farther afield.
I particularly liked one description of prayer, as explained by Mercy's mom to Mercy's friend, Molly Carmichael. "I just took the words that were pent up in my heart and spilled them out into the ear of God. You know any of us can do that. He is always waiting for us to be with Him." That line right there made me glad to have read Shades of Mercy..
-Evelyn Bence, December 18, 2013,www.bookreporter.com
Shades of Mercy resounded with me. As a Chinese-American, I felt the racism and the prejudices of being different as a child. I don't remember as clearly, but in second grade, the teacher turned the whole class against me. She couldn't stand that I was different from her. She treated me like an outsider, and so did the whole class.

When I read that Mick and the Masileet tribe was under the same prejudices, I just felt for them. In some parts of the country, like South Carolina, there are still prejudices against people with different skin colors other than the superior white skin.

I liked how Mercy and her family treated the Masileets with respect and dignity, even though no one else thought to. They showed everyone mercy and compassion and that's how God's glory can shine through us.

-Rhyan Wong, January 1, 2014, www.creazian.blogspot.com  
A good book, and as good as I had hoped it would be. It's about the conflict between the whites and the Indians in Maine – I had no idea they had this kind of tension there in the 1950s! This book provided a fascinating look at some complicated situations that seemed true to life. It's a growing up story about a young girl of 16 and her Indian boyfriend. The book was full of good writing, and had an excellent story – I would read more, either in this series or by these authors. I especially loved the description of a food pantry in Mercy's house – it reminded me of the luscious food descriptions in Laura Ingalls Wilder's book, Farmer Boy. I'm a sucker for food descriptions. ;) But this was a heartwarming and sweet story!
-Charity U-Austenite, January 7, 2014, www.austenitis.blogspot.com/
I'm always drawn to stories with Native American content. Learning that this was one of those books, I knew I had to read it. The storyline deals with how the Maliseet were mistreated and the prejudice that was shown to them.

There is a romance within this story, and while the story actually revolves largely around this romance, it still isn't the main focus, in my opinion. This is, more than anything, a sweet "coming of age" story. While I definitely consider it a young adult book, I do think it can be enjoyed by many adults, too.

Shades of Mercy was a relaxing read for me, even with the tough issues tackled. I enjoyed my time within its pages!
-Tammy Shelnut, December 20, 2013, www.bluerosesheart.blogspot.com/
The best part about the book was it's everyday feel. The story felt genuine to the time period and the issues and it was a nice slice of life piece on Mercy herself. Nothing was overly dramatic but there was still tension in the story to keep you reading forward to learn the fate of Mercy and the town as whole. The pacing switched from perfect to a little to slow a few times throughout but not enough to cause any disinterest.
The biggest problem I had was the first person. I think the novel suffered not having an omniscient POV. Everything felt very biased and centered as nothing else was represented except how Mercy felt.
-Alexis Ostrow, January 28, 2014, http://lbookbliss.com
Shades of Mercy is a story of hope, respect, and honor intertwined with God's truth, mercy, and love. As I first began to read this book, I was skeptical. I live on Colville Confederated Tribal Land in Washington State and am married to a tribal member. I thought this book might be written by those who are not really familiar with tribal issues, Native way of life, and prejudices. I was pleasantly surprised that the authors had done their homework and made the Native concerns authentic, and respectful. This was a pleasant read with strong characterization and convictions.
-Carmen Peone, www.carmenpeone.com, January 24, 2014
"Shades of  Mercy is a sweet story that gently takes you into the small sleepy community of Watsonville, Maine during a time of racial turmoil at the opposite end of the country.  It is a story that opens up a period of history that little has been written or spoken about in the United States.  This story has intrigued me to further research the Maliseet tribe. 

Although forbidden, the love story has you cheering for Mercy and Mick to overcome their personal difficulties and follow through in their young blossoming romance.  This book was enjoyed on a Sunday afternoon in one sitting.  The clean content would be enjoyed by teens through adults."
-Ruth Kaup, www.composedbygrace.blogspot.com, February 3, 2014

Shades of Mercy is a touching coming of age story. Mercy lives in Maine on her parents farm. At 15, her life long friendship with Mick changes into something more. Then tragic events and old prejudices rear their ugly heads and life changes forever.

Such a touching read. The prejudices present in this book are still around today in one form or another. And so much of the lessons learned can be applied to everyone's lives. This is a great book for a book club or even in a class.
-Laura Pratt, http://www.hentownmama.com/, February 7, 2014

This was a wonderful, coming-of-age read.  In addition, it was historical fiction, which is one of my favorite genres.  The story covers a period of time in Maine's history when native Maliseets (among other Indian tribes) had been pushed out of their homes and land and into terrible living conditions, and then the push to restoration. It's not a part of American history I was familiar with, and so I found the story all the more fascinating.

Not your typical boy-meets-girl romance fluff -- Shades of Mercy was a wonderful, thoughtful read and left me wanting more.  Based on the prologue and the epilogue (the epilogue completely took me by surpr
or
Not Currently Available for Direct Purchase