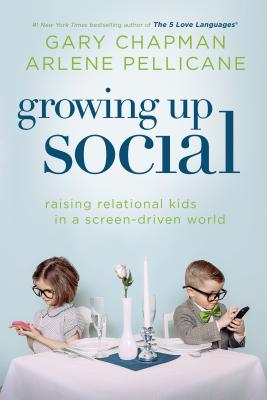 Growing Up Social (Paperback)
Raising Relational Kids in a Screen-Driven World
Northfield Publishing, 9780802411235, 240pp.
Publication Date: September 1, 2014
* Individual store prices may vary.
Description
Is technology drawing your family together or driving it apart?
In this digital age, children are spending more and more time interacting with a screen and less time playing outside, reading a book, or interacting with a parent. While technology can benefit us, it can also erode a sense of togetherness and hinder a child's emotional and social development.
In Growing Up Social, Gary Chapman and Arlene Pellicane will empower you with the tools you need to make positive changes . . . starting today. Through stories, wit, and wisdom, you'll discover how to take back your home from an overdependence on screens. Plus, you'll learn to teach the five A+ skills that every child needs to master: affection, appreciation, anger management, apology, and attention.
Learn how to:
Replace mindless screen time with meaningful family time
Establish simple boundaries that make a huge difference
Discover what's working for families that have become screen savvy
Equip your child to be relationally rich in a digital world
Learn healthy ways to occupy your child while you get things done
Now is the time to equip your child with a healthy involvement with screens and an even healthier involvement with others.
About the Author
GARY CHAPMAN
--author, speaker, counselor--has a passion for people and for helping them form lasting relationships. He is the #1 bestselling author of
The 5 Love Languages
series and director of Marriage and Family Life Consultants, Inc. Gary travels the world presenting seminars, and his radio programs air on more than 400 stations. For more information visit his website at
www.5lovelanguages.com
.
ARLENE PELLICANE
is a speaker and co-author of
Growing Up Social: Raising Relational Kids in a Screen-Driven World
(with Dr. Gary Chapman). Arlene's other books include
31 Days to Becoming a Happy Mom
and
31 Days to a Happy Husband
. She has been a featured guest on the Today Show, Fox & Friends, Focus on the Family, FamilyLife Today, The 700 Club, and Turning Point with Dr. David Jeremiah. Before becoming a stay-at-home mom, Arlene worked as the Associate Producer for Turning Point Television with Dr. David Jeremiah. Arlene earned her BA from Biola University and her Masters in Journalism from Regent University. She lives in San Diego with her husband James and their three children. To learn more and for free family resources such as a monthly Happy Home podcast, visit
www.ArlenePellicane.com
.
Praise For Growing Up Social: Raising Relational Kids in a Screen-Driven World…
"I really enjoyed reading this book. As a teacher, this has been a topic I have been constantly talking about. The effects of technology are clearly obvious in our youth and in our families and their interactions. I highly recommend this book to parents and teachers. I think this is a perfect book for a parenting class. Rating 4 out of 5 stars."
Reviewed by Susana Martin, Net Galley, June 6, 2014
"Let me start this review by saying that I was attracted to read this book by its cover and title. The cover is very intriguing and thought provoking. For me it's a perfect depiction of what is happening to kids who are "growing up" social. As a private tutor I had been questioning the effects of growing up social on my students. As soon as I saw the title of this book I picked it up thankfully it gave me all the answers I needed. And what's best of all, it gave me reassurance that my beliefs regarding screen time for children aren't wrong.
The writing is straight to the point. The concepts are clearly explained. There are many practical and doable examples on how to apply the suggestions the authors make. More about the writing on the the full review on my blog.
Growing up social does not emphasize only on the negative effects screen time has on our kids: slow language development, aggressive behavior, frustration, negative thoughts, weak interpersonal relationships, lack of virtues, feeling of entitlement, short attention span, lack of emotional connections, rebellion toward authority, etc. It is not a book to attack technology. The authors recognize that with a purpose and a plan, screen time can be a wonderful way to bring families closer.
The important lesson to learn is that there has to be balance, limits, and boundaries for screen time enforced by parents in order to raise healthy and productive human beings. These parameters don't have to be imposed or forced on children. They are set in a way that children learn to make decisions and learn to live within these boundaries.
Growing up social is an empowering book for parents, an eye opener for those who are feeling lost or despaired in their mission. It fills you with hope and reminds you that it is never too late to make positive changes that will influence your children for the rest of their lives. It positively recharges you and makes you remember that "you are the parent at the wheel who decides the direction of your family."
Growing up social is not only for parents or single parents, but also a great resource for grandparents, families, teachers, nannies, tutors, counselors, and anyone who is in constant contact with children and has some responsibility in their upbringing can greatly benefit from reading this book. I am very selective as to which books get 5 stars in my book shelf. I highly recommend reading this book."
Reviewed by MJ Bloggeretterized, Net Galley, Jul 11, 2015