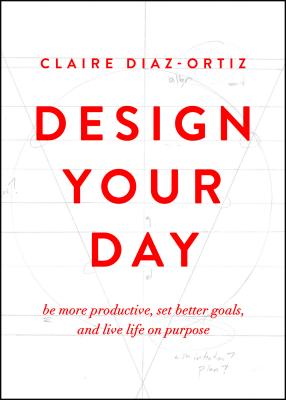 Design Your Day
Be More Productive, Set Better Goals, and Live Life On Purpose
Paperback

* Individual store prices may vary.
Description
"There are a lot of books about goal setting. This one is special." — Scott Warner, CEO, Gigg
When it comes to productivity, hard work is half the battle. The first half—the crucial half—is planning well. The DO LESS method is a simple way to achieve your goals more often, in less time, and with greater peace of mind.
Learn how to:
Decide the right goals for you
Create workable strategies for reaching them
Harness time for maximum efficiency
From the big-picture down to the details, Claire Diaz-Ortiz walks you through every step of setting and achieving smart goals. She helps you brainstorm goals, choose the best ones, and adjust them to make them realistic. Then she helps you strategize how to reach them, day-by-day, year-by-year.
Whether you want to finish a house project, lose weight, or write a book, Design Your Day—by someone who read 150 books while caring for an infant—is an all-in-one guide to smart productivity. Use Claire's tricks and tools and you'll be amazed at what you can do in a day, let alone a lifetime.
Praise For Design Your Day: Be More Productive, Set Better Goals, and Live Life On Purpose…
"As a busy mom who also works part-time outside the home, I am always on the lookout for any tips that will help with productivity, time management, and focus.  As with most books in the genre,  I began Claire Diaz-Ortiz's Design Your Day simultaneously excited for a new "a-aha!" moment, and skeptical that the book would only contain the same old re-hashed ideas.  I'm happy to say that the book delivers new concepts, and reinforces why brainstorming and other efforts that can seem like time sinks are necessary.

Diaz-Ortiz spends much time addressing goal setting (including realistic and relevant goals), and an action plan for determining where one should focus his/her efforts based on priorities, core competencies and enjoyment.  The book also contains many helpful time tracking, goal setting, and other productivity resources.

3.5  stars.

Thank to you NetGalley and Moody Publishers for a galley of this book in exchange for an honest review."
Reviewed by Jennifer Johnson, Net Galley, Oct 20, 2015
"Rating: 5/5 stars
Before I start, two things about me:
One, I might be the biggest procrastinator in the entire universe.
Two, I am not the biggest fan of self-help books, however, I have found them necessary in the last few months.
While I am still struggling to reach the seventh chapter of Antoni De Melo's Call To Love (which might be due to a poor translation) and yes, I am still putting Joe Barry's Panic Away Program to the test, I successfully tackled Design Your Day within a day (pun not intended, if it is, in fact, a pun).
ATTENTION UNIVERSE: Mrs. Diaz-Ortiz deserves all the awards for this book.
When I stumbled onto this book on NetGalley, I KNEW that I had to read it. I felt like it was written for me.
Now, let me tell you a couple of reasons why I needed Design Your Day in my life, and therefore you need it in yours.
First off, the writing. Mrs. Diaz-Ortiz has a one of a kind gift. She has the ability to explain complicated mechanisms with ease and wit which not only makes a usually-slow-moving-genre book interesting, it makes you excited to read the rest. It inspires you to try what it suggests.
I started this book at six in the morning (thanks to my cat) with the intention to power through it, wondering if a rainy Saturday morning is the best timing for a self-help book. But I ended up finishing it in four hours AND I already had my WORD OF THE YEAR, as well as a brainstorming session. That's how inspiring it is.
Second off, the theories and techniques Mrs. Diaz-Ortiz suggests. While it all sounds complicated and hard to achieve after reading the introduction, once you actually start reading, you'll see how simple it all is. Some day-to-day things we do can make a difference in your productivity.
Third off, IT WORKS."
Reviewed by Hristina Petrov, NetGalley, Dec 27, 2015
"I received this book just as I was about to start my annual process of setting goals for next year. I have been going about that task somewhat haphazardly in the past, but this book offers some very pragmatic ideas for setting those goals and breaking them down into achievable portions. This is instrumental in actually accomplishing those goals. In addition, the author offered some great insight into organizing a workday in order to be more productive and waste less time. Very practical guide for anyone with busy days or who might want to take a good look at what they want to accomplish."
Reviewed by Kathryn Strain, NetGalley, Nov 19, 2015
Moody Publishers, 9780802412942, 144pp.
Publication Date: January 5, 2016
About the Author
Claire Diaz-Ortiz (@claire) is an author, speaker and Silicon Valley innovator who was an early employee at Twitter. Named one of the 100 Most Creative People in Business by Fast Company, she holds an MBA and other degrees from Stanford and Oxford and has been featured widely in print and broadcast media. She writes a popular business blog at ClaireDiazOrtiz.com and is the author of the new book Hope Runs: An American Tourist, a Kenyan Boy, a Journey of Redemption (link:http://clairediazortiz.com/hoperuns/home/).