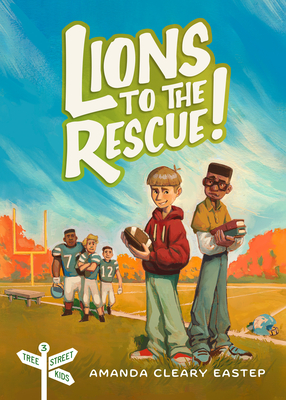 Lions to the Rescue!
Tree Street Kids (Book 3)
Paperback

* Individual store prices may vary.
Description
Book three in the Tree Street Kids series: If getting tackled is the best way to make new friends, that's okay with Jack. After all, starting fifth grade at a new school is even rougher than pee wee football. But how can he join the Lions and help Ellison build the Most Epic Bookmobile Bike Ever? Jack devises the perfect game plan–until he fumbles it with the most epic bike crash ever and a game day disaster.
Moody Publishers, 9780802421043, 192pp.
Publication Date: July 5, 2022
About the Author
AMANDA CLEARY EASTEP is not related to Beverly Cleary, but wishes she were. She is, however, a children's author, and the Tree Street Kids is her middle grade series. Amanda knows kids because she's still one at heart. When she is forced to act like an adult, she edits nonfiction books by grownup authors. She lives and writes in the mountains of North Carolina but has spent most of her life in the suburbs of Chicago where her characters now live.