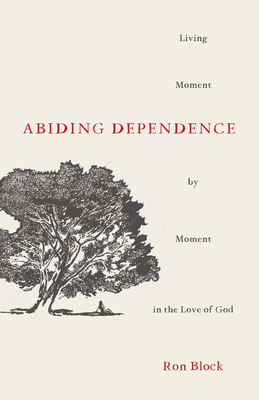 Abiding Dependence
Living Moment-by-Moment in the Love of God
Paperback

* Individual store prices may vary.
Description
Our humanity is meant to be powered by the Breath of God. 
You want to grow more deeply in your faith—to know in your bones the love the Father has for you. You want to know that even when life doesn't seem to be going as it should, God is with you. You need courage for today. Strength and hope for tomorrow. Musician and artist Ron Block desires the same—for you and for himself.  
To become who we're meant to be requires a deeper experience of God Himself. Abiding Dependence shares forty days of meditations—a deep plunge into the beauty and richness of the Gospels. Block takes the reader through contemplations of Jesus as Son of God, Son of Man, Tempted Son of Man, Compassionate High Priest, Man of Courage, Reconciler, and more. The reader learns to live and breathe in the atmosphere of God's abiding love.  
Christians often try to add flesh-fueled effort to buttress their works and walk with God. Can you relate? This gives rise to all sorts of mistaken ideas about God and our relationship with him. Block helps us live and rest in Jesus. Seeing and knowing His love awakens our trust. Faith lights hope. And we all need a stirring of hope—one that does not disappoint. Block stirs in Christians a hope not just for a future someday but for this day, this hour, this very moment. Join Block on a soul strengthening forty days of Abiding Dependence! 
Moody Publishers, 9780802424747, 208pp.
Publication Date: October 4, 2022
About the Author
RON BLOCK has been banjoist guitarist, vocalist, and songwriter for Alison Krauss & Union Station since 1991. He wrote many of the band's gospel songs: "There is a Reason," "In the Palm of Your Hand," "Jesus, Help Me to Stand," and his playing has been featured on albums by Dolly Parton, Vince Gill, Reba McEntire, Randy Travis, Alan Jackson, Brad Paisley, Fernando Ortega, and others. He's received 14 Grammy Awards for his work with Alison Krauss, Vince Gill, and the O Brother, Where Are Thou soundtrack, and received a Dove Award for his song "A Living Prayer." He has also written on spiritual and musical topics for the Rabbit Room website since its inception in 2007, rabbitroom.com.
He married Sandra in 1988 and they live in rural Tennessee. They have two grown children, Ethan and Erica.