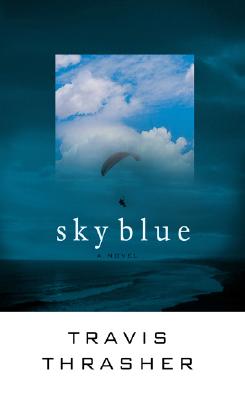 Sky Blue
Paperback

* Individual store prices may vary.
Description
Colin Scott is a top literary agent at a firm representing some of the biggest names in publishing. He's worked hard to reach this place, yet now it seems routine and aggravating. On top of the creeping cynicism in his professional life, Colin and his wife are desperate to have a baby. As the pressure mounts, he finds himself questioning almost every decision he's ever made. And he seems to be having a nervous breakdown.

Then disaster strikes. On a much-needed vacation in Mexico, his wife's parasail malfunctions and she plunges to her death. From that point on, Colin's life goes from bad to worse as he loses his job and, apparently, his mind.
Moody Publishers, 9780802486684, 400pp.
Publication Date: July 1, 2007
About the Author
TRAVIS THRASHER is a graduate of Trinity Christian College and is the author of several novels, including Blinded, Admission, Gun Lake, and The Second Thief. Admission was selected as one of Booklist¿s top ten Christian novels of 2006. Travis spent much of his youth living with his family in Australia, Germany, New York, Florida, and North Carolina. He currently lives with his wife and family in suburban Chicago.
What is the significance of the title? What feelings and emotions does it conjure up?
What's the general view of the publishing industry presented in this book? Does it change from the beginning to the end? Does this depiction surprise you?
One element to this novel is the tension being presented in publishing: the business of making money and the act of creating art. How does that play out in the novel?
Colin and Jen have a complicated relationship. What happens to destroy it? What could have happened to change it?
The chapter, "To Kill A Mockingbird," shifts the story in a whole other direction. Did this chapter surprise you? Did it make you angry or sad?
What is the significance of the chapter titles, and does this add to the overall experience of the novel?
Which one of these emotions does Colin experience: denial or grief?
Is Colin going crazy or is he actually experiencing everything that happens to him after Cancun?
How would this story have changed had it been written in third person verses Colin's point of view? Is Colin an unreliable narrator?
Colin prays twice in the novel. Are those prayers answered, and if so, how?
Were you surprised at the twist? Did you see it coming? What is your explanation of what happened?
What's the overall theme to Sky Blue?
or
Not Currently Available for Direct Purchase