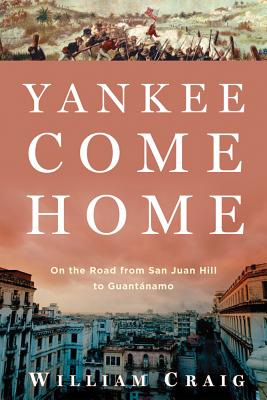 Yankee Come Home (Hardcover)
On the Road from San Juan Hill to Guantanamo
Walker & Company, 9780802710932, 437pp.
Publication Date: August 7, 2012
* Individual store prices may vary.
Description
The Spanish-American War ended over a century ago, but its effects are with us still. In "Yankee Come Home," William Craig travels through Cuba, the birthplace of American imperialism, to find out why our republican ideals died in the glory of San Juan Hill, and to reveal Guantanamo, the corner of Cuba we've never left. I n doing so, he recounts more than a century of the fascinating, but none-too-flattering relationship between the United States and Cuba. Through present-day adventures-spirit-possession rituals, black market odysseys and roots-music epiphanies-Craig explores what that relationship has wrought in the lives of Cubans and A mericans alike.
Craig was drawn to the Cuban-American story by memories of his mysterious great-grandfather Thomas O'Brien, a self-proclaimed hero of the "splendid little war" whose legacy of glorious, painful lies left his own children wondering who he'd really been. Like the reality of "Papa" O'Brien's identity, the story of the United States' 1898 intervention in Cuba reflects more hubris than heroism, more avarice than sacrifice. But in the end, despite America's unseemly history there, Craig's journey through Cuba and its history takes him to a greater understanding of both countries. His observation that "at Guantanamo, freedom is in trouble on both sides of the wire" applies to the past and present of the United States as well as Cuba.
About the Author
William Craig, a journalist and professor at New Hampshire's River Valley Community College, has written for the Boston Globe, the Hartford Courant, the Spectator, and the Boston Review. His fiction has appeared in StoryQuarterly and the New England Review.
Praise For Yankee Come Home: On the Road from San Juan Hill to Guantanamo…
"For its style, humanity and vision, Yankee Come Home is beyond praise. The writing is sharper, the descriptions more evocative, than anything I have read in years."—Jack Beatty, author of The Lost History of 1914 and Age of Betrayal
"Cuba is mostly unfamiliar territory for US travelers, which is ironic given how the United States was the dominating presence there for so much of its history. With
Yankee Come Home
, William Craig does his US readers a great favor, entertaining us with his adventures across Cuba but reminding us along the way of how US interventions left the island scarred."—Tom Gjelten, author of
Bacardi and the Long Fight for Cuba
"Craig braids the history of Cuban-American relations with quick, fluent grace."—Nicholson Baker, author of
Human Smoke
"Intrepid Bill Craig's wild journeys through Cuba tell a story no one has told before: The legacy of America's disastrous 1898 intervention. With solid-gold reporting and a quirky flair for drama, humor, and pathos, Craig reveals not only a hidden Cuba, but the hidden heart of America, too. The book is bound to be a classic."—Sy Montgomery, author of
The Good Good Pig
and
Spell of the Tiger
or
Not Currently Available for Direct Purchase