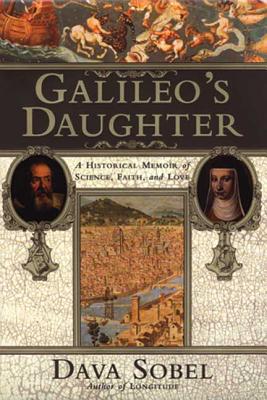 Galileo's Daughter
A Historical Memoir of Science, Faith, and Love
Hardcover

* Individual store prices may vary.
Other Editions of This Title:
Digital Audiobook (5/2/2005)
Digital Audiobook (10/3/2005)
Paperback (9/4/2011)
Paperback (11/1/2000)
Description
Inspired by a long fascination with Galileo, and by the remarkable surviving letters of Galileo's daughter, a cloistered nun, Dava Sobel has written a biography unlike any other of the man Albert Einstein called "the father of modern physics- indeed of modern science altogether." Galileo's Daughter also presents a stunning portrait of a person hitherto lost to history, described by her father as "a woman of exquisite mind, singular goodness, and most tenderly attached to me."
The son of a musician, Galileo Galilei (1564-1642) tried at first to enter a monastery before engaging the skills that made him the foremost scientist of his day. Though he never left Italy, his inventions and discoveries were heralded around the world. Most sensationally, his telescopes allowed him to reveal a new reality in the heavens and to reinforce the astounding argument that the Earth moves around the Sun. For this belief, he was brought before the Holy Office of the Inquisition, accused of heresy, and forced to spend his last years under house arrest.
Of Galileo's three illegitimate children, the eldest best mirrored his own brilliance, industry, and sensibility, and by virtue of these qualities became his confidante. Born Virginia in 1600, she was thirteen when Galileo placed her in a convent near him in Florence, where she took the most appropriate name of Suor Maria Celeste. Her loving support, which Galileo repaid in kind, proved to be her father's greatest source of strength throughout his most productive and tumultuous years. Her presence, through letters which Sobel has translated from their original Italian and masterfully woven into the narrative, graces her father's life now as it did then.
Galileo's Daughter dramatically recolors the personality and accomplishment of a mythic figure whose seventeenth-century clash with Catholic doctrine continues to define the schism between science and religion. Moving between Galileo's grand public life and Maria Celeste's sequestered world, Sobel illuminates the Florence of the Medicis and the papal court in Rome during the pivotal era when humanity's perception of its place in the cosmos was about to be overturned. In that same time, while the bubonic plague wreaked its terrible devastation and the Thirty Years' War tipped fortunes across Europe, one man sought to reconcile the Heaven he revered as a good Catholic with the heavens he revealed through his telescope.
With all the human drama and scientific adventure that distinguished Dava Sobel's previous book Longitude, Galileo's Daughter is an unforgettable story.
Walker Books, 9780802713438, 384pp.
Publication Date: October 1, 1999
About the Author
Dava Sobel (born June 15, 1947) is the author of Longitude, Galileo's Daughter, The Planets, and A More Perfect Heaven: How Copernicus Revolutionized the Cosmos. A former staff science reporter for The New York Times, she has also written for numerous magazines, including Discover, Harvard Magazine, Smithsonian, and The New Yorker.
Her most unforgettable assignment at the Times required her to live 25 days as a research subject in the chronophysiology lab at Montefiore Hospital, where the boarded-up windows and specially trained technicians kept her from knowing whether it was day outside or night.
Her work has won recognition from the National Science Board, which gave her its 2001 Individual Public Service Award "for fostering awareness of science and technology among broad segments of the general public." She also received the 2004 Harrison Medal from the Worshipful Company of Clockmakers in England and the 2008 Klumpke-Roberts Award from the Astronomical Society of the Pacific for "increasing the public understanding and appreciation of astronomy."
A 1964 graduate of the Bronx High School of Science, she has taught several seminars in science writing at the university level, and held a two-year residency at Smith College in fall 2013.
or
Not Currently Available for Direct Purchase