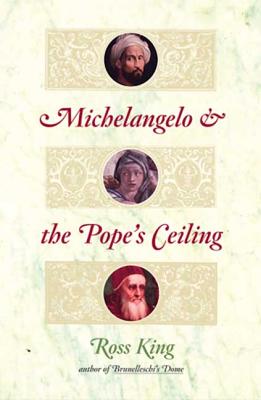 Michelangelo and the Pope's Ceiling
Hardcover

* Individual store prices may vary.
Other Editions of This Title:
Digital Audiobook (12/31/2002)
Paperback (10/14/2014)
Paperback (11/25/2003)
Audio Cassette (1/1/2003)
Description
In 1508, despite strong advice to the contrary, the powerful Pope Julius II commissioned Michelangelo Buonarroti to paint the ceiling of the newly restored Sistine Chapel in Rome. Four years earlier, at the age of twenty-nine, Michelangelo had unveiled his masterful statue of David in Florence; however, he had little experience as a painter, even less working in the delicate medium of fresco, and none with the curved surface of vaults, which dominated the chapel's ceiling. The temperamental Michelangelo was himself reluctant, and he stormed away from Rome, risking Julius's wrath, only to be persuaded to eventually begin.
Michelangelo would spend the next four years laboring over the vast ceiling. He executed hundreds of drawings, many of which are masterpieces in their own right. Contrary to legend, he and his assistants worked standing rather than on their backs, and after his years on the scaffold, Michelangelo suffered a bizarre form of eyestrain that made it impossible for him to read letters unless he held them at arm's length. Nonetheless, he produced one of the greatest masterpieces of all time, about which Giorgio Vasari, in his Lives of the Artists, wrote, "There is no other work to compare with this for excellence, nor could there be."
Ross King's fascinating new book tells the story of those four extraordinary years. Battling against ill health, financial difficulties, domestic problems, inadequate knowledge of the art of fresco, and the pope's impatience, Michelangelo created figures—depicting the Creation, the Fall, and the Flood—so beautiful that, when they were unveiled in 1512, they stunned his onlookers. Modern anatomy has yet to find names for some of the muscles on his nudes, they are painted in such detail. While he worked, Rome teemed around him, its politics and rivalries with other city-states and with France at fever pitch, often intruding on his work. From Michelangelo's experiments with the composition of pigment and plaster to his bitter competition with the famed painter Raphael, who was working on the neighboring Papal Apartments, Ross King presents a magnificent tapestry of day-to-day life on the ingenious Sistine scaffolding and outside in the upheaval of early-sixteenth-century Rome.
Walker Books, 9780802713957, 304pp.
Publication Date: January 1, 2003
About the Author
Born and raised in Canada, Ross King has lived in England since 1992. In 2002—03, two books of his were published in the United States, Domino, about the world of masquerades and opera in 18th century London and the New York Times bestselling Michelangelo and the Pope's Ceiling.
Nominated for a National Book Critics Circle Award in 2003 in the category of critisicm, in Michelangelo and the Pope's Ceiling King tells the story of the four years—1508-1512.—Michelangelo spent painting the ceiling of the newly restored Sistine chapel. In this extraordinary book, he presents a magnificent tapestry of day-to-day life of the ingenious Sistine scaffolding and outside in the upheaval of early 16th century Rome.
King's highly acclaimed Brunelleschi's Dome: How a Renaissance Genius Reinvented Architecture, was an instant hit in the U.S., landing on the New York Times, Boston Globe and San Francisco Chronicle bestseller lists and becoming a handselling favorite among booksellers. Brunelleschi's Dome was chosen "The 2000 Book Sense Nonfiction Book of the Year" and a Book Sense 76 top ten selection.
Anyone familiar with Ross King's writing knows that he has an astonishing knowledge of European cultural history. He originally planned a career in academia, earning his Ph.D. in English Literature and moving to England to assume a research position at the University of London.
King lives near Oxford, England, in the historic town of Woodstock, the site of Blenheim Palace. He is a devoted cyclist and hikes regularly in both the Pyrenees and the Canadian Rockies.
or
Not Currently Available for Direct Purchase