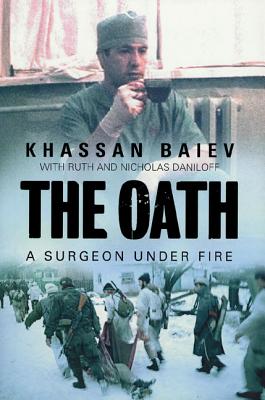 The Oath
A Surgeon under Fire
Hardcover

* Individual store prices may vary.
Other Editions of This Title:
Digital Audiobook (8/2/2012)
Paperback (10/25/2005)
Description
When Chechen rebels took Moscow theatergoers hostage in October 2002, it tragically highlighted the ongoing conflict between Russia and its breakaway republic, Chechnya—a war that has claimed an estimated 200,000 Chechen lives in the past decade. Yet the true nature of the debacle lies behind the headlines. In The Oath, a heroic Chechen doctor relates his harrowing experiences in the line of fire to bear witness to this international calamity, and illuminates his remarkable people and their culture.
In 1994, when fighting threatened to break out in Chechnya, Baiev left his promising career in Russia to aid his countrymen. First, he worked in a Grozny hospital until it was destroyed by Russian shelling. Returning to his hometown of Alkhan Kala, he and his fellow villagers restored a clinic with his own funds, and he soon found himself the only doctor for 80,000 residents in six villages and 5,000 refugees. During the next six years, he worked without gas, electricity, or running water, with only local anesthetics, and at one point dressed wounds with sour cream or egg yolks when supplies ran out. He often donated his own blood for surgeries, and on one occasion performed sixty-seven amputations in forty-eight hours.
Although he mainly treated civilians, Baiev also cared for Russian soldiers and Chechen fighters alike, never allowing politics to interfere with his commitment to the Hippocratic oath. He harbored Russian deserters and Chechen rebels at great personal risk and single-handedly rescued a Russian doctor who was scheduled to be executed. For this, Baiev was nearly killed by both the Russian special forces and Chechen extremists. Only when the Russian Army ordered him arrested for treating a wounded rebel warlord did Baiev finally flee Chechnya.
Echoing through his memoir is the history of Chechnya, a Muslim nation the size of Connecticut with a population of one million. Baiev explains the roots of the Chechen- Russian conflict, dating back 400 years, and he brings to life his once-beautiful ancestral home of Makazhoi where his family clan goes back generations, steeped in ancient traditions that are an intriguing blend of mountain folklore—including blood vendettas, arranged marriages, the authority of village elders—and Muslim religious rituals. And he writes frankly about the challenges of assimilating into western culture and about the post-traumatic stress disorder that has debilitated him since the war began.
The Oath is an important eyewitness account of the reality of the Chechen-Russian conflict, in which countless atrocities have been committed against average Chechens in stark contrast to the Kremlin's portrayal of the conflict. It is also a searing, unforgettable memoir that is certain to become a classic in the literature of war.
Walker Books, 9780802714046, 320pp.
Publication Date: August 1, 2004
About the Author
"I wrote The Oath for two reasons. I wanted the world to know that war is a hellish thing, which victimizes the innocent. In war there are no winners. Second, and equally important, I wanted to introduce my readers to the Chechen people."

Khassan Baiev was born in Alkhan Kala, a suburb of the Chechen capital Grozny, in 1963. Plagued by illness growing up, Baiev was propelled into athletics, in particular martial arts, to overcome his frailty. By the late seventies he was a black-belt, champion judoist who won Russian competitions and faced a promising career as a coach in the sports-obsessed Soviet Union.
Instead, Baiev, whose sisters were nurses and father was an herbalist, desired to be a doctor. "However, I never talked about it out loud because of my school grades. I was sure people would laugh and think me arrogant if I suggested it," he recalls. In 1980 he convinced the Krasnoyarsk Medical Institute in Siberia to accept him, despite their efforts to exclude non-Russians. Admitted provisionally, Baiev was forced to study and sleep in the waiting room of the local railroad station for the first six months.
Graduating in 1985 and returning to Chechnya in 1988, Baiev became a successful reconstructive surgeon, particularly in the aftermath of the Soviet Union's collapse. But when President Boris Yeltsin issued the order to invade Chechnya a few years later, Baiev gave up his lucrative practice to perform trauma surgery. As the wars raged on, he was persecuted as a criminal by both sides. When he treated Chechen fighters, the Russians accused him of being a traitor. When he treated Russian soldiers, factions of Islamic extremists accused him of the same. Determined to uphold the Hippocratic oath, Baiev operated on all in need, from Russian soldiers to Chechen fighters. But, as he is always quick to point out, it is the civilians caught in between who are the main victims.
During the first war (1994-1996), Baiev treated thousands of civilians. He also operated on and saved a Chechen field commander in a secret underground hideout with the assistance of a Russian doctor the Chechen fighters had taken prisoner. When a Chechen field commander threatened to kill the Russian doctor in retaliation for the murder of his brother, Baiev helped him escape. Thrown into a pit for nine days where the relatives of the field commander tried to force a confession, Baiev barely escaped execution himself.
During the second war (1999-present), Arbi Barayev, a notorious Chechen thug, tried Baiev in a kangaroo court for treating Russian soldiers. Facing execution yet again, Baiev was saved at the last moment by the Russian bombardment of his town.
The Russians, in turn, issued their own order for Baiev's arrest after he saved the life of Shamil Basayev, one of the Kremlin's most wanted field commanders. "With a million dollar bounty on Shamil's head, I could have been a rich man if I had let him bleed to death," Baiev noted.
Realizing that Baiev was a man wanted by both sides, Physicians for Human Rights helped him seek political asylum in the United States. He reluctantly emigrated in 2000, telling The New York Times: "Nobody likes to recall that I was saving elderly civilians by the thousands. The only thing they remember is that I was the surgeon who operated on Basayev."
In the past three years Dr. Baiev has become an outspoken advocate for human rights who has been honored by Human Rights Watch, Physicians for Human Rights, and Amnesty International. He has even returned to competitive sports after a break of 13 years and in 2001 and 2002 he won the world championship in sombo (a Russian form of martial arts). "If it weren't for my athletic training, I don't think I ever would have survived the two Russian-Chechen wars."
Dr. Baiev lives today in Massachusetts with his wife and six children. His youngest child, a girl named Satsita, was born in 2003 in Boston. "She is our American daughter. All my family here and in Chechnya are delighted. And maybe one day she will grow up to be a U.S. senator!"
or
Not Currently Available for Direct Purchase