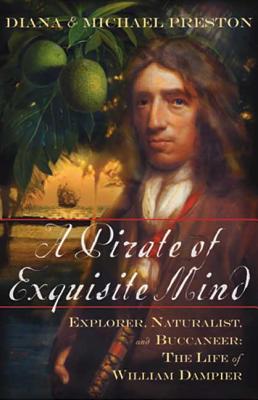 A Pirate of Exquisite Mind: Explorer, Naturalist, and Buccaneer: The Life of William Dampier (Hardcover)
Explorer, Naturalist, and Buccaneer: The Life of William Dampier
Walker & Company, 9780802714251, 416pp.
Publication Date: April 1, 2004
* Individual store prices may vary.
or
Not Currently Available for Direct Purchase
Description
Darwin took his books aboard the Beagle. Swift and Defoe used his experiences as inspiration in writing "Gulliver's Travels" and "Robinson Crusoe." Captain Cook relied on his observations while voyaging around the world. Coleridge called him a genius and "a man of exquisite mind." In the history of exploration, nobody has ventured further than Englishman William Dampier. Yet while the exploits of Cook, Shackleton, and a host of legendary explorers have been widely chronicled, those of perhaps the greatest are virtually invisible today an omission that Diana and Michael Preston have redressed in this vivid, compelling biography.
As a young man Dampier spent several years in the swashbuckling company of buccaneers in the Caribbean. At a time when surviving one voyage across the Pacific was cause for celebration, Dampier ultimately journeyed three times around the world; his bestselling books about his experiences were a sensation, influencing generations of scientists, explorers, and writers. He was the first to deduce that winds cause currents and the first to produce wind maps across the world, surpassing even the work of Edmund Halley. He introduced the concept of the "sub-species" that Darwin later built into his theory of evolution, and his description of the breadfruit was the impetus for Captain Bligh's voyage on the Bounty. Dampier reached Australia 80 years before Cook, and he later led the first formal expedition of science and discovery there.
"A Pirate of Exquisite Mind" restores William Dampier to his rightful place in history one of the pioneers on whose insights our understanding of the natural world was built.
About the Author
Born and raised in London, Diana Preston studied Modern History at Oxford University, where she first became involved in journalism. After earning her degree, she became a freelance writer of feature and travel articles for national UK newspapers and magazines and has subsequently reviewed books for a number of publications, including The Wall Street Journal and The Los Angeles Times. She has also been a broadcaster for the BBC and the Canadian Broadcasting Corporation, and has been featured in various television documentaries.A Pirate of Exquisite Mind: Explorer, Naturalist and Buccaneer: The Life of William Dampier (Walker & Company, April 2004) is a new biography of the 17th-century British explorer, naturalist, scientist, pirate and buccaneer William Dampier coauthored by Diana and her husband, Michael Preston.Diana's decision to write "popular" history led her to The Road to Culloden Moor: Bonnie Prince Charlie and the '45 Rebellion (Constable UK, 1995). It was followed by A First Rate Tragedy: Robert Falcon Scott and the Race to the South Pole (Houghton Mifflin, 1998), The Boxer Rebellion (Walker & Company, 2000), and Lusitania: An Epic Tragedy (Walker & Company, 2002). When not writing, Diana and Michael are avid travelers. Together, they have sojourned throughout India, Asia, Africa, and Antarctica, and have climbed Mount Kinabalu in Borneo, Mount Kilimanjaro in Tanzania, and Mount Roraima in Venezuela. Their adventures have also included gorilla-tracking in Zaire and camping their way across the Namibian desert. They live in London, England.
Advertisement