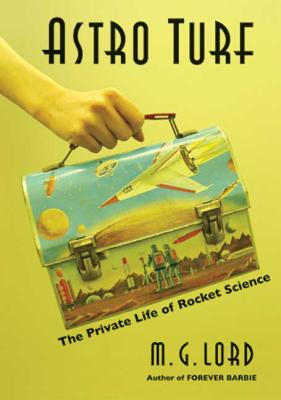 Astro Turf (Hardcover)
The Private Life of Rocket Science
Walker Books, 9780802714275, 272pp.
Publication Date: January 1, 2005
Other Editions of This Title:
Paperback (2/14/2006)
* Individual store prices may vary.
Description
A daughter's journey to rediscover her father and understand the culture of space engineers
During the late 1960s, while M. G. Lord was becoming a teenager in Southern California and her mother was dying of cancer, Lord's father-an archetypal, remote, rocket engineer- disappeared into his work at the Jet Propulsion Laboratory in Pasadena, building the space probes of the Mariner Mars 69 mission. Thirty years later, Lord found herself reporting on the JPL, triggering childhood memories and a desire to revisit her past as a way of understanding the ethos of rocket science. Astro Turf is the brilliant result of her journey of discovery.
Remembering her pain at her father's absence, yet intrigued by what he did, Lord captures him on the page as she recalls her own youthful, eccentric fascination with science and space exploration. Into her family's saga she weaves the story of the legendary JPL- examining the complexities of its cultural history, from its start in 1936 to the triumphant Mars landings in 2004. She illuminates its founder, Frank Malina, whose brilliance in rocketry was shadowed by a flirtation with communism, driving him from the country even as we welcomed Wernher von Braun and his Nazi colleagues. Lord's own love of science fiction becomes a lens through which she views a profound cultural shift in the male-dominated world of space. And in pursuing the cause of her father's absence she stumbles on a hidden guilt, understanding "the anguish his proud silence caused both him and me, and how rooted that silence was in the culture of engineering."
As in her acclaimed book Forever Barbie, which demystified an icon of feminine culture, Lord brings her penetrating insight to bear on a bastion of American masculinity, opening our eyes in unexpected and memorable ways.
About the Author
M. G. Lord is an author and critic. Since 1995 she has been a regular contributor to The New York Times Book Review and Times's Arts & Leisure section. Her work has appeared in numerous publications, including ARTNews, Vogue, The Wall Street Journal, The Los Angeles Times Book Review, and The New Yorker. Currently, she is completing a family memoir about aerospace culture during the Cold War, which will be published in 2004 by Walker & Company. She lives in Los Angeles.
or
Not Currently Available for Direct Purchase