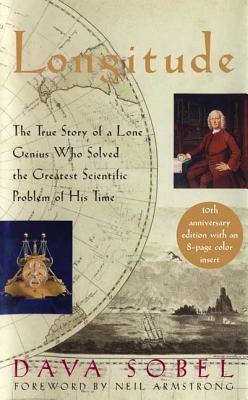 Longitude
The True Story of a Lone Genius Who Solved the Greatest Scientific Problem of His Time
Hardcover

* Individual store prices may vary.
Description
On its 10th anniversary, a gift edition of this classic book, with a forward by one of history's greatest explorers, and eight pages of color illustrations.
Anyone alive in the eighteeth century would have known that "the logitude problem" was the thorniest scientific dilemma of the day--and had been for centuries. Lacking the ability to measure their longitude, sailors throughout the great ages of exploration had been literally lost at sea as soon as they lost sight of land. Thousands of lives, and the increasing fortunes of nations, hung on a resolution.
The scientific establishment of Europe--from Galileo to Sir Issac Newton--had mapped the heavens in both hemispheres in its certain pursuit of a celestial answer. In stark contrast, one man, John Harrison, dared to imagine a mechanical solution--a clock that would keep percise time at sea, something no clock had ever been able to do on land. Longitude is a dramatic human story of an epic scientific quest and Harrison's forty-year obsession with building his perfect timekeeper, known today as the chronometer. Full of heroism and chicanery, it is also a fascinating brief history of astronomy, navigation, and clockmaking, and opens a new window on our world.
Praise For Longitude: The True Story of a Lone Genius Who Solved the Greatest Scientific Problem of His Time…
"A simple tale, brilliantly told." —Washington Post Book World
"A gem of a book." —The New York Times
"As much a tale of intrigue as it is of science…for anyone interested in history, geography, astronomy, navigation, clockmaking, and--not the least--plain old human ambition and greed." —Philadelphia Inquirer
"Intricate and elegant…No novelist could improve on the elements of Dava Sobel's Longitude." —Newsweek
Walker Books, 9780802714626, 192pp.
Publication Date: October 1, 2005
About the Author
Dava Sobel (born June 15, 1947) is the author of Longitude, Galileo's Daughter, The Planets, and A More Perfect Heaven: How Copernicus Revolutionized the Cosmos. A former staff science reporter for The New York Times, she has also written for numerous magazines, including Discover, Harvard Magazine, Smithsonian, and The New Yorker.
Her most unforgettable assignment at the Times required her to live 25 days as a research subject in the chronophysiology lab at Montefiore Hospital, where the boarded-up windows and specially trained technicians kept her from knowing whether it was day outside or night.
Her work has won recognition from the National Science Board, which gave her its 2001 Individual Public Service Award "for fostering awareness of science and technology among broad segments of the general public." She also received the 2004 Harrison Medal from the Worshipful Company of Clockmakers in England and the 2008 Klumpke-Roberts Award from the Astronomical Society of the Pacific for "increasing the public understanding and appreciation of astronomy."
A 1964 graduate of the Bronx High School of Science, she has taught several seminars in science writing at the university level, and held a two-year residency at Smith College in fall 2013.
or
Not Currently Available for Direct Purchase