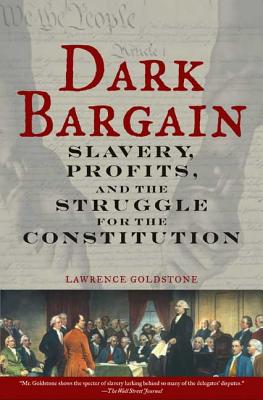 Dark Bargain (Paperback)
Slavery, Profits, and the Struggle for the Constitution
Walker & Company, 9780802715074, 230pp.
Publication Date: October 3, 2006
* Individual store prices may vary.
Description
Lawrence Goldstone throws new light on the framing of the U. S. Constitution in this intriguing chronicle of the Constitutional debates, bringing to life the remarkable range of personalities and rivalries that forged the foundation of our country. The Constitutional Convention of 1787 is generally viewed as dominated by the likes of Madison, Mason, Gouverneur Morris, and a few others; in fact, as Goldstone shows, relative unknowns like Rutledge, Ellsworth, and Sherman took over the debate and forged its eventual outcome. He also reveals how the debate over slavery was not split along North-South lines.
About the Author
Goldstone has written, along with his wife Nancy, several other books including Out of the Flames, The Friar and the Cipher, Used and Rare: Travels in the Book World, and Warmly Inscribed: The New England Forger and Other Tales.
Praise For Dark Bargain: Slavery, Profits, and the Struggle for the Constitution…
"[A] thoughtful new study of the framing of the Constitution and of the compromise over the role of slavery in the composition of the new government." --Philadelphia Inquirer
 
"Mr. Goldstone shows the specter of slavery lurking behind so many of the delegates' disputes. He describes the lengths to which these wily debaters would go to make their motives sound nobler than they were and the men themselves freer of the racism of their day than in fact they were. And the delegates were imperfect soothsayers: Some of the key assumptions that persuaded them to insist on the three-fifths clause proved incorrect. The method of apportionment played no role in taxation, for instance, since Congress never did vote to impose a direct tax on the states. Of course, had the delegates known that the nation would later erupt in a ghastly civil war over slavery, they might have acted differently, too."--Wall Street Journal "Dark Bargain is a long-overdue corrective . . . With sound research and a lively style, Goldstone shows there was no such thing as a single 'original intent.' that he does so in such a robust, entertaining and accessible style is an advantage that even the Constitution's drafters would have appreciated."--The Denver Post
or
Not Currently Available for Direct Purchase