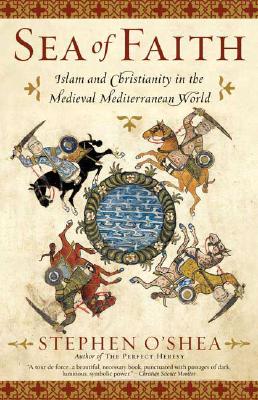 Sea of Faith: Islam and Christianity in the Medieval Mediterranean World (Paperback)
Islam and Christianity in the Medieval Mediterranean World
Walker & Company, 9780802715173, 411pp.
Publication Date: May 29, 2007
* Individual store prices may vary.
or
Not Currently Available for Direct Purchase
Description
From the sixth through the sixteenth centuries, the faiths of Islam and Christianity contended for primacy in the Mediterranean world. At times acrimonious, at other times harmonious, the encounter between the two creeds in the Middle Ages provides a backdrop to much of what informs, and misinforms, public opinion on present-day conflicts. Recounting seven major battles encircling the Mediterranean Yarmuk, Poitiers, Manzikert, Hattin, Las Navas de Tolosa, Constantinople, and Malta Stephen O'Shea shines vital new light on the distant past while offering invaluable perspective on the two faiths' ongoing contest for spiritual and political primacy.
About the Author
A journalist and translator, Stephen O'Shea is the author of The Perfect Heresy: The Revolutionary Life and Death of the Medieval Cathars and Back to the Front: An Accidental Historian Walks the Trenches of World War I. He lives in Providence, Rhode Island.
Praise For Sea of Faith: Islam and Christianity in the Medieval Mediterranean World…
Praise for Sea of Faith:
"An absorbing, crisply written chronicle...If you're expecting an argument on behalf of peaceful coexistence or, alternatively, a call to alarm on the order of Samuel P. Huntington's "The Clash of Civilizations and the Remaking of World Order," the colorful, if often gruesome, story that O'Shea narrates with considerable panache offers no easy answers to our current predicament."--Los Angeles Times
"Admirably evenhanded."--Dallas Morning News
"A tour de force...a beautiful, necessary book, punctuated with passages of dark, luminous, symbolic power. If, as it appears, we have entered a new 'dark ages,' only by facing the worst about what seems to offer hope to believers can we forge new hopes--tolerant places where convivencia, as embodied in this superb book, flourishes once again."--Christian Science Monitor
"A gripping account of Christianity and Islam's first tortured millennium of combat and coexistence. Vivid vocabulary, tasteful touches of humor and a traveler's-eye view of the Mediterranean enrich the history. An engaging glimpse into the events that shaped the Mediterranean basin as we know it today."--Kirkus Reviews
"O'Shea's marvelous accomplishment offers an unparalleled glimpse of the struggles of each religion to establish dominance in the medieval world as well as of the strategies for living together that the religions enacted as they shared the same territory."--Publishers Weekly (starred review)
 
Advertisement