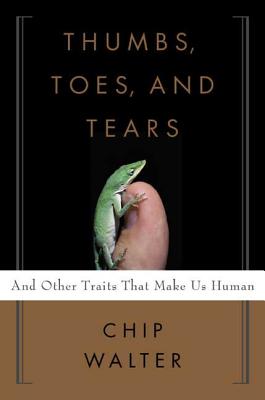 Thumbs, Toes, and Tears
And Other Traits That Make Us Human
Hardcover

* Individual store prices may vary.
Other Editions of This Title:
Paperback (2/5/2008)
Description
The fascinating evolutionary links between six seemingly unremarkable traits that make us the very remarkable creatures we are.
Countless behaviors separate us from the rest of the animal kingdom, but all of them can be traced one way or another to six traits that are unique to the human race—our big toe, our opposable thumb, our oddly shaped pharynx, and our ability to laugh, kiss, and cry. At first glance these may not seem to be connected but they are. Each marks a fork in the evolutionary road where we went one way and the rest of the animal kingdom went another. Each opens small passageways on the peculiar geography of the human heart and mind.
Walter weaves together fascinating insights from complexity theory, the latest brain scanning techniques, anthropology, artificial intelligence, cognitive psychology, and robotics to explore how the smallest of changes over the past six million years – all shaped by the forces of evolution -- have enabled a primate once on the brink of extinction to evolve into a creature that would one day create all of the grand and exuberant edifices of human culture.
As the story of each trait unfolds, Walter explains why our brains grew so large and complex, why we find one another sexually attractive, how toolmaking laid the mental groundwork for language, why we care about what others think, and how we became the creature that laughs and cries and falls in love. Thumbs, Toes and Tears is original, informative, and delightfully thought-provoking.
Praise For Thumbs, Toes, and Tears: And Other Traits That Make Us Human…
"With a story teller's skill Chip Walter urges us to see how great things come from small beginnings. He refreshingly points out that while ideas have consequences, so do big toes, opposable thumbs and four other human traits that, mostly, we take for granted. We may have much in common with the animal world, but thanks to an unlikely collision of seemingly small evolutionary changes something extraordinary happened -- the human race. A fascinating read." —Michael S. Gazzaniga, Ph.D. Director, Center for Cognitive Neuroscience, Dartmouth College, and author of The Ethical Brain
"Eons ago, we started to stand straight with our big toes, freeing our hands, evolving our thumbs, manipulating our environment, transforming the thoughts in our expanded brains into changed realities. In this brilliant account of how the majestic human enterprise started from these humble beginnings, Chip Walter vividly tells the ambiguous, messy, and utterly fascinating stories that led to our becoming the technology-creating species." —Ray Kurzweil, inventor and author of The Singularity is Near: When Humans Transcend Biology
Walker Books, 9780802715272, 304pp.
Publication Date: October 31, 2006
About the Author
Chip Walter is a journalist, documentary filmmaker, and former San Francisco bureau chief for CNN. He is coauthor (with William Shatner) of I'm Working on That and author of Space Age, the companion book to the primetime PBS series of the same title. He teaches science writing at Carnegie Mellon University, and currently is a senior manager of strategic communications and public information at the University of Pittsburgh Medical Center. He has been awarded the Christopher Award 1984 for Best Science Documentary.
or
Not Currently Available for Direct Purchase