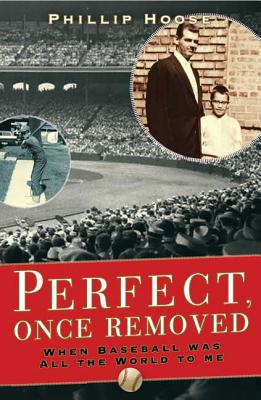 Perfect, Once Removed: When Baseball Was All the World to Me (Hardcover)
When Baseball Was All the World to Me
Walker & Company, 9780802715371, 176pp.
Publication Date: October 3, 2006
* Individual store prices may vary.
or
Not Currently Available for Direct Purchase
Description
In the winter of 1956, Phillip Hoose was a gawky, uncoordinated 9-year-old boy just moved to a new town Speedway, Indiana and trying to fit into a new school and circle of friends. Baseball was his passion, even though he was terrible at it and constantly shamed by his lack of ability. But he had one thing going for him that his classmates could never have his second cousin was a pitcher for the New York Yankees. Don Larsen wasn't a star, but he was in the Yankees' rotation. And on October 8, 1956, he pitched perhaps the greatest game that has ever been pitched: a perfect game (27 batters up, 27 out) against the Brooklyn Dodgers in the World Series. It forever changed Phil's life. "Perfect, Once Removed," recalls with pitch-perfect clarity the angst and jubilation of Phil Hoose's 9th year. To be published on the 50th anniversary of The Perfect Game, it will be one of the best baseball books of 2006.
About the Author
Phillip Hoose is the acclaimed author of Hoosiers, the story of basketball life in Indiana, as well as two highly-praised books for young adults: We Were There, Too and The Race to Save the Lord God Bird. He lives in Portland, Maine, and at the age of 59 still plays shortstop in his local softball league.
Praise For Perfect, Once Removed: When Baseball Was All the World to Me…
"Perfect, Once Removed is not so much about the magic of that golden afternoon in Yankee Stadium as it is the magic of baseball when the game wraps itself around a boy's soul...And he does so without ever letting nostalgia slip into schmaltz, a feat as tricky to execute as a 3-6-3 double play. His recollections are tinged with just the right amount of exuberance and self-deprecation. The book's publisher likens Hoose's storytelling to Jean Shepherd's, and the comparison is not, shall we say, off-base. Substitute an A2000 fielder's glove for a Red Ryder BB gun, and you get the idea…No errors here."--John Carney, Boston Globe

"Hoose (Hoosiers) tells of growing up in the shadow of the Indianapolis Speedway in the 1950s, but another sport cast a bigger spell: baseball. Hoose was a gawky and bullied child who built his confidence and his understanding of the larger world through his budding interest in that sport. Better yet, he was related (first cousin, once removed and hence the title) to one of its stars, Don Larsen, the New York Yankee journeyman pitcher who became hugely famous overnight for his perfect game in the 1956 World Series. The book revolves around that pivotal year when both a young Phillip and an unsung pitcher corresponded and met each other. The photos show the postcards and memorabilia that Larsen sent the boy. An epilog brings the story up to the present, when the two adults have a rare meeting. This well-penned reminiscence will appeal to both general and younger adults."--Library Journal

"Hoose's genuine passion for the game shines through…and the self-effacing descriptions of his boyhood troubles make you want to root, root, root for the kid with the big glasses and the wild arm. Removed from perfect indeed, but all the more charming for it."--Kirkus Reviews

"Thank goodness Phillip Hoose didn't listen to Casey Stengel's advice to never become a writer. He has written a wonderful story about a marvelous moment from a memorable time in baseball history. It is perfect for all baseball fans, even those who can't play."--Tim Kurkjian, ESPN

"This endearing memoir is like a large slice of delicious lemon meringue pie delivered at a small town Indiana church supper. Mr. Hoose, a cousin of Don Larsen of the perfect World Series game in 1956, starts third grade in a new school that year, has his struggles adjusting, fails at baseball, and yet emerges in part because of a zealous love for his cousin, the Yankees, and above all else our great game. I loved it because, like baseball, it is about failure and ultimate redemption." --Fay Vincent (former baseball commissioner)

"When I pitched a Perfect Game against the Dodgers in the 1956 World Series, I knew my life had changed. But I had no idea that, back in Indiana, the game had also turned things around for my 9-year-old cousin, Phil. Though Perfect, Once Removed is about the connection between Phil and me, I think what the book really shows is the huge pull that baseball has always had on kids. It's a wonderful story and I'm glad Phil wrote it." --Don Larsen
Advertisement