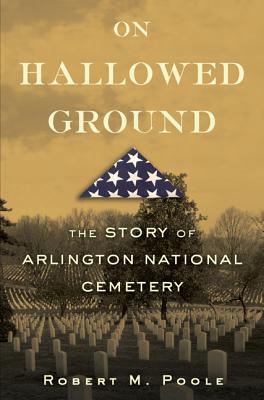 On Hallowed Ground (Hardcover)
The Story of Arlington National Cemetery
Walker & Company, 9780802715487, 352pp.
Publication Date: November 11, 2009
* Individual store prices may vary.
Description
"On Hallowed Ground "opens with the long-delayed funeral of four servicemen, brought home for final honors at Arlington National Cemetery almost forty years after they disappeared in Vietnam. To understand how this tradition of extraordinary care for our war dead began, Robert Poole traces the founding of Arlington Cemetery on what had been the family plantation of Robert E. Lee. After resigning his commission in the U.S. Army, Lee left Arlington to command the Army of Northern Virginia. Arlington, strategic to the defense of Washington, D.C., became a U.S. Army headquarters and a cemetery for indigent Civil War soldiers before Secretary of War Edwin M. Stanton made it the new national cemetery.
Initially, there was no honor attached to being buried at Arlington; this began to change after the war, as the Union gathered thousands of hastily-buried casualties from nearby battlefields and reinterred them at Arlington, where they received the honors of a grateful nation. But the rites, rituals, and reverence associated with Arlington evolved over the next hundred years, paid through the blood of those who fought in the Spanish-American War, World Wars I and II, the Korean War, the Cold War, Vietnam, Desert Storm, and Iraq and Afghanistan.
Robert Poole paints an intimate, behind-the-scenes picture of the history and day-to-day operations of Arlington National Cemetery.
About the Author
Robert M. Poole is former executive editor of National Geographic and author of Explorers House, which was a holiday pick for Barnes & Noble's "Discover Great New Writers" series in 2004. He is a contributing editor at Smithsonian and a contract writer for National Geographic. Poole has been published in the New York Times, Washington Post, and Preservation.
Praise For On Hallowed Ground: The Story of Arlington National Cemetery…
"Gracefully written, often deeply affecting history. like the nation itself, Arlington bears the scars of its history, as Robert Poole eloquently shows."—Fergus Bordewich, Washington Post.
"Engaging. Robert Poole is an adroit sketcher of historical events, but even more of character."—The Economist.
"Graceful and dignified…perhaps more than any other secular site in America, Arlington casts a religious spell. The effect is not accidental…there is ample evidence of sacramental need in the many Arlington rituals that Mr. Poole relates in such moving detail."—Wall Street Journal.
 "Vivid, compelling, filled with rich and unexpected detail, On Hallowed Ground tells the little-understood story of Arlington National Cemetery and in the process chronicles how we have honored—and sometimes dishonored—those who gambled everything on our behalf. Robert M. Poole is a fine storyteller and this is a great story."—Geoffrey C. Ward, author of The Civil War and The War: An Intimate History 1941-1945
"Improbably gripping and often deeply moving, On Hallowed Ground chronicles both the evolution of our national cemetery and the profound ways in which treatment of the war dead reflects a nation's soul. Readers interested in political, social or military history from the Civil War on will want to read this book."—Caroline Alexander, author of The Endurance
"Most Americans, especially most historians, think they know all about Arlington Cemetery. They respect what it represents, and revere the heroes resting there. But only Robert Poole has brought to life all the historic figures, from privates to presidents, who made this national shrine and populate its rolling hills. On Hallowed Ground is a memorable combination of historical research, first-hand reporting and sensitive writing—a definitive work that should last as long as the eternal flame at John Kennedy's grave site."—Ernest B. Furgurson, author of Freedom Rising: Washington in the Civil War
"In his stirring, evocative style, Robert Poole blends Arlington's untold story with America's own story, as Robert E. Lee's home, a prize of war in a divided nation, evolves—through wars and peace—into America's most hallowed ground."—Thomas B. Allen, coauthor of The Bonus Army
"Robert M. Poole not only captures the history of a venerable American institution but with it the politics of commemoration and reconciliation.  Absolutely first rate."—Paul Dickson, coauthor of The Bonus Army
"Robert Poole has coupled superb storytelling with meticulous research and produced a gem.  On Hallowed Ground is by turns illuminating, informative, and enormously readable.  In the future you will never think of Arlington Cemetery withut recalling the tales contained in this marvelous book."—Robert Timberg, author of The Nightingale's Song and State of Grace: A Memoir of Twilight Time
Coverage from NPR
or
Not Currently Available for Direct Purchase