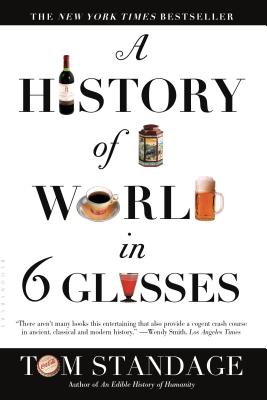 A History of the World in 6 Glasses
Paperback

* Individual store prices may vary.
Other Editions of This Title:
Digital Audiobook (3/24/2011)
Compact Disc (3/25/2011)
Compact Disc (3/25/2011)
MP3 CD (3/25/2011)
Description
The New York Times Bestseller

"There aren't many books this entertaining that also provide a cogent crash course in ancient, classical and modern history." —Los Angeles Times

Beer, wine, spirits, coffee, tea, and Coca-Cola: In Tom Standage's deft, innovative account of world history, these six beverages turn out to be much more than just ways to quench thirst. They also represent six eras that span the course of civilization—from the adoption of agriculture, to the birth of cities, to the advent of globalization. A History of the World in 6 Glasses tells the story of humanity from the Stone Age to the twenty-first century through each epoch's signature refreshment. As Standage persuasively argues, each drink is in fact a kind of technology, advancing culture and catalyzing the intricate interplay of different societies. After reading this enlightening book, you may never look at your favorite drink in quite the same way again.
Praise For A History of the World in 6 Glasses…
"Standage's bright idea really is bright: a book that divides world history into beer, wine, spirits, coffee, tea and Coca-Cola Ages. His book is loaded with the kind of data that get talked about at the figurative water cooler . . . Incisive, illuminating and swift." - Janet Maslin, New York Times

"A zippy narrative . . . [Standage] uses something mundane and everyday to tell vivid and accessible stories about the changing textures of human life." - Steven Shapin, The New Yorker

"Tom Standage's highly enjoyable chronicle of six beverages that have shaped human destiny is as refreshing as a cool glass of beer on a hot day and as stimulating as that first cup of coffee in the morning . . . There aren't many books this entertaining that also provide a cogent crash course in ancient, classical and modern history . . . In breezy, but unfailingly intelligent prose . . . the author underpins provocative cultural commentary with solid economic and political information." - Wendy Smith, Los Angeles Times

"Spirited arguments—mixed with more than a splash of historical evidence—present a cogent case for how civilization has evolved through millennia of sippage . . . Standage stirs up a fun and engaging romp without spilling a drop." - Wired

"A clever, tight retelling of human history . . . Standage's writing flows like water: crisp, clear, and deceptively simple. Foodies and readers fond of quirky cultural histories will enjoy this book." - The Plain Dealer (Cleveland)

"An easy and agreeable read, never seeming discursive or unwieldy, despite the vast amount of ground it covers. I'll happily raise my glass to that." - Yiling Chen-Josephson, Newsday

"Standage has a talent for compressing and enlivening arcane material . . . A clever way of pulling together many of the main points of world history around the technology and commerce of drink . . . An enjoyable and enlightening book, so drink up!" - The American Scholar

"Memorable facts . . . abound in Tom Standage's delightful A History of the World in 6 Glasses." - Jeffrey Tannenbaum, Bloomberg.com

"Ingenious . . . Combines a lively writing style with a wonderful collection of anecdotes. [Standage's] book sparkles like champagne." - Montreal Gazette

"Standage's historical division works fantastically well. His history of the technology and culture of quenching our thirst is a thought-provoking look at what we drink today and how it offers insight into our past." - Toronto Star

"An extraordinary trip through world history. [Standage] has the ability to connect the smallest detail to the big picture and a knack for summarizing vast concepts in a few sentences." - Publishers Weekly (starred review)

"History, along with a bit of technology, etymology, chemistry and bibulous entertainment. Bottoms up!" - Kirkus Reviews
Bloomsbury USA, 9780802715524, 336pp.
Publication Date: May 16, 2006
About the Author
Tom Standage is deputy editor of the Economist and the author of six previous history books, including Writing on the Wall, the New York Times bestsellers A History of the World in 6 Glasses and An Edible History of Humanity, and The Victorian Internet, a history of the telegraph. His writing has also appeared in the New York Times, the Guardian, Wired, and other publications. Standage holds a degree in engineering and computer science from Oxford University. He lives in London. @TomStandage