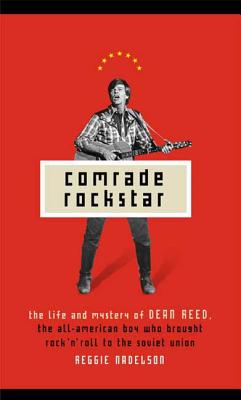 Comrade Rockstar: The Life and Mystery of Dean Reed, the All-American Boy Who Brought Rock 'n' Roll to the Soviet Unio (Paperback)
The Life and Mystery of Dean Reed, the All-American Boy Who Brought Rock 'n' Roll to the Soviet Unio
Walker & Company, 9780802715555, 352pp.
Publication Date: June 13, 2006
* Individual store prices may vary.
or
Not Currently Available for Direct Purchase
Description
Dean Reed had one of the strangest careers in the history of popular culture. Failing to gain recognition for his music in his native United States, he achieved celebrity in South America in the early 1960s and then, unbelievably, became the biggest rock star in the Soviet Union, where he was awarded the Lenin Prize and his icons were sold alongside those of Josef Stalin. His albums went gold from Bulgaria to Berlin. He made highly successful movies and, naively earnest, was an unwitting acolyte for socialism; everywhere he went, he was mobbed by his fans. And then, in 1986, at the height of his fame, right after 60 Minutes had devoted a segment to him, finally giving him the recognition he had never attained at home, he drowned in mysterious circumstances in East Berlin.
Drawn magnetically to his story, Reggie Nadelson pursued the mystery of Dean Reed's life and death across America and Eastern Europe, her own journey mirroring his. As she traveled, the Berlin Wall came down, the Soviet Union crumbled, and Reed became an increasingly alluring figure, his life an unrepeatable tale of the Cold War world. Encountering the characters musicians and DJs, politicians and public figures, lovers and wives who peopled Reed's life, Nadelson was drawn further and further into a seedy, often hilarious subculture of sex, politics, and rock 'n' roll. Part biography, part memoir and personal journey, " Comrade Rockstar" is an unforgettable chronicle of an utterly improbable life.
About the Author
A journalist and documentary filmmaker, REGGIE NADELSON is the author of four previous Artie Cohen novels: Red Hot Blues, Hot Poppies, Bloody London, and Sex Dolls. Comrade Rockstar, her biography of Dean Reed, the American emigre who became the biggest rock star in the Soviet Union, is under movie option to Tom Hanks. She was born and lives on New York's Lower West Side.
Praise For Comrade Rockstar: The Life and Mystery of Dean Reed, the All-American Boy Who Brought Rock 'n' Roll to the Soviet Unio…
"Nadelson's fascinating book is as much a study of life behind the Iron Curtain, and the significance that rock 'n' roll music held for the young pre-Glasnost generation, as it is a straightforward biography."--Daily Mail (London)
Advertisement