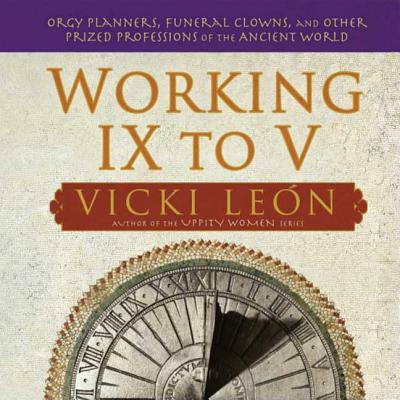 Working IX to V (Paperback)
Orgy Planners, Funeral Clowns, and Other Prized Professions of the Ancient World
Walker & Company, 9780802715562, 312pp.
Publication Date: June 5, 2007
* Individual store prices may vary.
Description
Vicki Le?n, the popular author of the "Uppity Women" series (more than 335,000 in print), has turned her impressive writing and research skills to the entertaining and unusual array of the peculiar jobs, prized careers and passionate pursuits of ancient Greece and Rome.
From Architect to Vicarius (a deputy or stand-in)-and everything in between-"Working IX to V "introduces readers to the most unique (dream incubator), most courageous (elephant commander), and even the most ordinary (postal worker) jobs of the ancient world. Vicki Le?n brought a light and thoughtful touch to women's history in her earlier books, and she brings the same joy and singular voice to the daily work of the ancient world. You'll be surprised to learn how bloody an editor's job used to be, how even a slave could purchase a "vicarius" to carry out his duties and that early Greeks had their own ghost-busters with the apt title of "psychopompus."
In addition to stand-alone profiles on callings, trades, and professions, Le?n offers numerous sidebar entries about actual people who performed these jobs, giving a human face to the ancient workplace. Combining wit and rich scholarship, "Working IX to V" is filled with anecdotes, insights, and little-known facts that will inform and amuse readers of all ages. For anyone captivated by the ancient past, "Working IX to V" brings a unique insight into the daily grind of the classical world. You may never look at your day-to-day work in the same way.
About the Author
Vicki Leon is a writer, traveler, and historian who has built a wide readership with her Uppity Women series. She lives in Morro Bay, California.
or
Not Currently Available for Direct Purchase