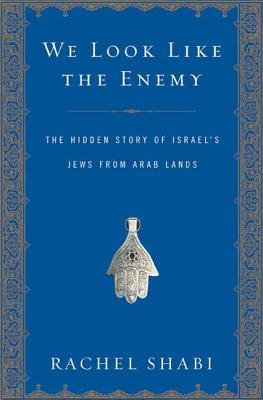 We Look Like the Enemy (Hardcover)
The Hidden Story of Israel's Jews from Arab Lands
Walker Books, 9780802715722, 272pp.
Publication Date: January 2, 2009
Other Editions of This Title:
Paperback (12/22/2009)
* Individual store prices may vary.
Description
"There is a class split," writes Rachel Shabi, "that runs on ethnic lines"—specifically, between Jews of European origin and those whose ancestral homes were Arab countries. Middle Eastern Jews from Egypt, Morocco, Iraq, Yemen, and other Arab lands make up nearly half of Israel's population. Yet European or "Ashkenazi" Jews have historically disparaged them because the emigrants looked Arab, spoke Arabic, and brought with them what was viewed as a "backward" Middle Eastern culture. David Ben Gurion, Israel's first prime minister, called them "human dust with no Jewish or human culture." Such opinions permeated Israeli society. Middle Eastern or "Mizrahi" emigrants were kept in transit camp longer than Ashkenazi Jews and had poorer housing, educational, and occupational opportunities.
Shabi returned to Israel for a year to investigate the tense relations that still exist between Mizrahi and Ashkenazi Jews in Israel. She traces the history of this split, starting with the centuries-old story of the Jewish Diaspora, then discussing how Mizrahi figured in the founding and building of Israel, protests by the Mizrahi Black Panther Party in 1971—"the first clash of Jew against Jew in Israel"—and a successful campaign in the 1990s to get the Israeli Ministry of Education to remove negative stereotyping of Yemenites in a textbook. Internalizing such stereotypes led a Moroccan Israeli university professor to begin passing for Ashkenazi when she was only eight years old, even though it meant "destroying, down to the roots, the identity that my parents gave me…rejecting everything: their past, their language, their values."
Israel's striving to be a European country and demeaning the culture of its Mizrahi citizens has dislocated those citizens from their own Judeo-Arab identities, and has helped make Israel a misfit state in the Middle East. Shabi combines historical research with intimate oral interviews to shed light on ethnic injustice within Israel, past and present. Her passionate, personal connection and the heartfelt stories told by other Mizrahis make "We Looked Like the Enemy" a stunning, unforgettable book.
About the Author
Rachel Shabi was born in Israel to Iraqi Jews and grew up in England. A journalist, she has been published in the Guardian, the Sunday Times, and the Sunday Express. This is her first book. She currently lives in Tel Aviv.
or
Not Currently Available for Direct Purchase