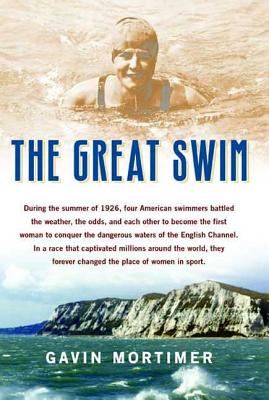 The Great Swim (Hardcover)
Walker Books, 9780802715951, 336pp.
Publication Date: February 19, 2008
Other Editions of This Title:
Paperback (5/4/2009)
* Individual store prices may vary.
Description
The dramatic story of the four courageous female swimmers who captivated the world in the summer of 1926.

Despite the tensions of a world still recovering from World War I, during the summer of 1926, the story that enthralled the public revolved around four young American swimmers—Gertrude Ederle, Mille Gade, Lillian Cannon, and Clarabelle Barrett—who battled the weather, each other, and considerable odds to become the first woman to conquer the brutal waters of the English Channel.
The popular East Coast tabloids from New York to Boston engaged in rivalries nearly as competitive as the swimmers themselves; each backed a favorite and made certain their girl—in bathing attire—was plastered across their daily editions. Just as Seabiscuit, the little horse with the big heart, would bring the nation to a near standstill when he battled his rival War Admiral in 1938, this quartet of women held the attention of millions of people on both sides of the Atlantic for an entire summer.
Gavin Mortimer uses primary sources, diaries, interviews with relatives, and contemporary reports to paint an unforgettable portrait of a competition that changed the way the world looked at women, both in sport and society. More than an underdog story, The Great Swim is a tale of perseverance, strength, and sheer force of will. A portrait of an era that is as evocative as Cinderella Man, this is a memorable story of America and Americans in the 1920s.
About the Author
Gavin Mortimer was born in London and now lives in Montpellier in the south of France. Having spent his early twenties traveling, he began writing full-time in 1996. He has since contributed to a broad cross-section of publications, from Esquire to the Daily Telegraph and from BBC History Magazine to the Observer. His previous books on Britain's Special Air Service and the Blitz were published in the UK. He is also a distance swimmer himself.
Praise For The Great Swim…
"[Mortimer's] re-creation of Ederle's crossing you can't help but feel cold, wet and exhausted….In fact, Ederle's time 14 hours and 39 minutes beat the male record by a full two hours. Her triumph was as an athlete, no asterisk for gender." —Ginny Merdes, Seattle Times
"...what might be the most amazing athletic achievement of the century....Mortimer tells this story with a verve that pulls the reader in like a high tide....After conquering the Channel, Ederle was an American hero, as celebrated as Jack Dempsey, Babe Ruth or Bobby Jones; when she died in 2003 at age 97, she was all but forgotten. Her legacy, which included the Olympic Committee's increasing the number of swimming events for women, was confined to a few short lines in her obituary." —Allen Barra, Washington Post Book World
"A stirring portrait of courage and endurance, but also a bittersweet tale of the vagaries of fame and fortune." —Kirkus Reviews
"British journalist and historian Mortimer has done Ederle--and sports history in general--a huge service in this wonderfully written book" —Publishers Weekly
"In 1926, when legs-baring bathing suits were still considered titillating, swimming the English Channel was a fast track to international stardom. This engrossing book follows four American women who competed that summer to become the first female to cross the treacherous strait. Mortimer's descriptions of their attempts are gripping, like the failed try of underdog Clarabelle Barrett, who struggled in rough seas for over 21 hours before giving up. Even more fascinating is the rabid celebrity culture he evokes: Mobs of adoring fans in New York nearly tore one successful swimmer to pieces, only to forget all about her the following year. A-" —Entertainment Weekly
or
Not Currently Available for Direct Purchase