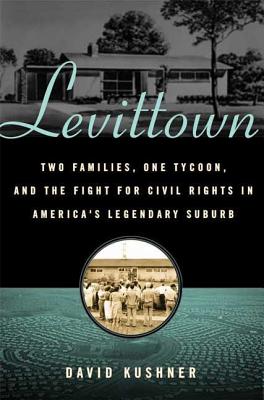 Levittown: Two Families, One Tycoon, and the Fight for Civil Rights in America's Legendary Suburb (Hardcover)
Two Families, One Tycoon, and the Fight for Civil Rights in America's Legendary Suburb
Walker & Company, 9780802716194, 256pp.
Publication Date: February 3, 2009
* Individual store prices may vary.
or
Not Currently Available for Direct Purchase
Description
The dark side of the American dream: the true story of the first African-American family to move into the iconic suburb, Levittown, PA .
In the decade after World War II, one entrepreneurial family helped thousands of people buy into the American dream of owning a home. T he Levitts William, Alfred, and their father, Abe pooled their talents to create storybook towns with affordable little houses. T hey laid out the welcome mat, but not to everyone. Levittown had a whites-only policy.
The events that unfolded in Levittown, PA, in the unseasonably hot summer of 1957 would rock the community. There, a white Jewish Communist family named Wechsler secretly arranged for a black family, the Myerses, to buy the pink house next door. T he explosive reaction would transform their lives, and the nation, leading to the downfall of a titan and the integration of the most famous suburb in the world. "Levittown "is a story of hope and fear, invention and rebellion, and the power that comes when ordinary people take an extraordinary stand. And it is as relevant today, more than fifty years later, as it was then.
About the Author
David Kushner is the author of Masters of Doom and Jonny Magic and the Card Shark Kids. A contributing editor at Rolling Stone and Wired, he has also been published in the New York Times, New York, Entertainment Weekly, Parade, Salon, and the Village Voice. He does commentary for NPR, and teaches journalism at New Y ork U niversity. Kushner lives not far from Levittown in New Jersey.
Praise For Levittown: Two Families, One Tycoon, and the Fight for Civil Rights in America's Legendary Suburb…
"Kushner skillfully pieces together a shameful chronicle of racial discrimination during the American postwar economic boom. ...The Levittown fracas, he demonstrates, was a crucial moment in the overall [Civil Rights] struggle. A remarkable story fashioned into a dramatic narrative." –Kirkus
"A riveting account of two families -- one African-American, the other white and Jewish -- who worked together in the summer of 1957 against tremendous odds to begin the inevitable integration of America's first suburbs. Kushner builds a strong case against the creators of such exclusionary communities." —Minneapolis Star Tribune
"In Levittown, a vigorous and often surprising narrative, David Kushner journeys into the racially charged heart of what newspapers once trumpeted as 'the most perfectly planned community in America.' The core of Mr. Kushner's story focuses on the campaign to desegregate Levittown, Pa., in 1957. He deftly spliced together the experiences of two families at the center of what became a terrifying ordeal." —Wall Street Journal
"A propulsive, deft page-turner…Kushner achieves cinematic immediacy in reconstructing the events, focusing on the entwined experiences of Levitt and the two families, and the backdrop of Levittown in a moment when suburbanites chose between everyday evil and their better angels." —Time Out Chicago
"In 1957, the event immediately recognized as a watershed moment in civil rights was the attempted integration of Central High School in Little Rock, Ark... But, in 1957, there was also Levittown. The equally harrowing story of how one black family tried to break the color line in that suburb outside of Philadelphia had all the elements of Little Rock, yet it's largely been forgotten by history. In Levittown, David Kushner rectifies that with a spare, brisk but always indignant account of another watershed moment that, while overshadowed by Little Rock and other events, was in many ways more consequential." —Los Angeles Times
"[An] absorbing study of racial politics in America's model postwar suburb… Written as a sort of novelistic narrative history,
Levittown
traces the stories of two sets of disparate protagonists, couples drawn to Levittown as part of 'the greatest internal migration the country had seen since the western expansion of the 1800s.' …Kushner relates [the drama] with judicious economy and an eye for the effective image"
—Bookforum
"Kushner relies on memoirs, transcripts, interviews, and newspaper accounts to bring to life the 1957 legal challenge to discriminatory housing practices and the individuals whose lives were affected." —Booklist
"In an entertaining round-robin format, Kushner relays each party's story in the leadup to a combustible summer when the integration of America's most famous suburb cause the downfall of a titan and transformed the nation." —Publishers Weekly
"Kushner has gathered a mass of material, organized it effectively, and tells a gripping story. After reading it, Americans will understand how suburbs became so white in the first place and what two families -- one black, one white -- did to remedy the situation." -- James Loewen, author of Lies My Teacher Told Me and Sundown Towns
"A gripping, beautifully-written history of a hot summer in one town where so many threads of postwar American history came together–suburbanization, segregation, the civil rights movement, McCarthyism. A real page-turner." –Stephanie Coontz, author of The Way We Never Were and Marriage, a History
Advertisement