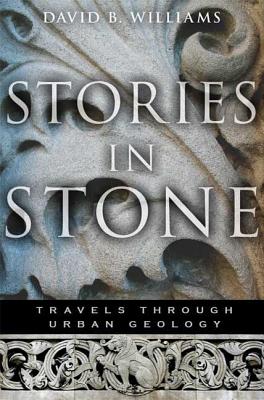 Stories in Stone (Hardcover)
Travels Through Urban Geology
Bloomsbury Publishing, 9780802716224, 272pp.
Publication Date: June 30, 2009
Other Editions of This Title:
Paperback (8/13/2019)
* Individual store prices may vary.
Description
Most people do not think to look for geology from the sidewalks of a major city, but for David B. Williams any rock used as building material can tell a fascinating story. All he has to do is look at building stone in any urban center to find a range of rocks equal to any assembled by plate tectonics. In Stories in Stone, he takes you on his explorations to find 3.5-billion-year-old rock that looks like swirled pink and black taffy, a gas station made of petrified wood, and a Florida fort that has withstood 300 years of attacks and hurricanes, despite being made of a stone that has the consistency of a granola bar.
In Stories in Stone, Williams also weaves in the cultural history of stone. He shows why a white, fossil-rich limestone from Indiana became the only building stone to be used in all 50 states; how in 1825, the construction of the Bunker Hill Monument led to America's first commercial railroad; and why when the same kind of marble used by Michelangelo was used on a Chicago skyscraper it warped so much after 19 years that all 44,000 panels of the stone had to be replaced. A love letter to building stone, from New England brownstone and Morton Gneiss of Minnsota to the limestone of Salem, Indiana; from granite and travertine to Carrara marble, David Willilams brings to life the stones you will see in the structures of every city, large and small. After reading his book, you will forever look at stone buildings with new eyes.
About the Author
David B. Williams is a freelance natural history writer. Based in Seattle on the western edge of the North American plate, he has taught geology in the classroom and in the field to people from ages 8 to 80. His regional books include Street-Smart Naturalist: Field Notes from Seattle and A Naturalist's Guide to Canyon Country. He has written for Smithsonian, Popular Mechanics, and National Wildlife, and is a regular contributor to Earth.
Praise For Stories in Stone: Travels Through Urban Geology…
"David B. Williams can see the invisible. He notices the lost dramas fossilized in brownstones and statues, in the doorsteps and roof slates we walk by every day. Only such an operatic theme as the enduring grandeur of stone could encompass in a single book everything from Martian meteorites to school blackboards to dinosaur tracks. Williams's epic story is rich in colorful eccentrics, from Michelangelo to Robinson Jeffers, but no character comes alive more vividly than the restless, creative Earth itself." —Michael Sims, author of Apollo's Fire and Adam's Navel
"From the Bunker Hill Monument in Boston to the Colosseum in Rome, David Williams distills gripping stories from building stone--of deep geologic time and the human quest for permanence and beauty." —Chet Raymo, author The Path: A One-Mile Walk Through the Universe
"This is the best sort of book, one that makes you see the familiar in strange new light. Now that David Williams has warmed our stone façades with beautifully told stories, never again will I pass a brownstone without looking for its telltale flaws or walk the Granite City without thinking of the natural wonders that produced its stony poetry." —Jennifer Ackerman, author of Sex Sleep Eat Drink Dream: A Day in the Life of Your Body
"By assigning human stories and values to stone in this fascinating book, David B. Williams links the living and the non-living. In the process, our homes and buildings come alive." —Robert M. Thorson, author of Beyond Walden and Stone by Stone
or
Not Currently Available for Direct Purchase