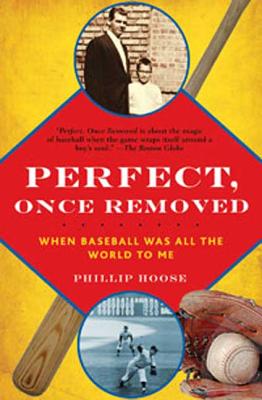 Perfect, Once Removed: When Baseball Was All the World to Me (Paperback)
When Baseball Was All the World to Me
Walker & Company, 9780802716279, 163pp.
Publication Date: March 4, 2008
* Individual store prices may vary.
or
Not Currently Available for Direct Purchase
Description
"Disguised as a nostalgic, coming-of-age baseball memoir, this is a sly, spare meditation on the perils of childhood, the power of celebrity, the vagaries of human kindness, and how even tenuous family bonds can have a surprisingly steely impact." Joe Pilla, Paperbacks Plus
In pitch-perfect prose, and with a gift for conveying the fears and dreams of a young boy's life, Phil Hoose recalls the magical year of 1956, when his cousin, Don Larsen, pitched a perfect game in the World Series, and the game of baseball helped him take root in a tough new town. "Perfect, Once Removed "is a wondrous ode to the glory of baseball and to growing up.
About the Author
Phillip Hoose is the author of Hoosiers: The Fabulous Basketball Life of Indiana, The Race to Save the Lord God Bird, and We Were There, Too. He lives in Portland, Maine, and still plays shortstop in his local softball league.
Praise For Perfect, Once Removed: When Baseball Was All the World to Me…
Praise for Perfect, Once Removed (A Book Sense Pick and 2006 Highlight):
"Inspires both author and reader."—
Time
"A charmer of a memoir."—
Philadelphia Inquirer
"
Perfect, Once Removed
is about the magic of baseball when the game wraps itself around a boy's soul."—
Boston Globe
"With consummate skill Mr. Hoose evokes the era of apple pie and white picket fences…His tale is ascenduring as Don Larsen was flawless that one afternoon 50 years ago."—
Washington Times
Advertisement