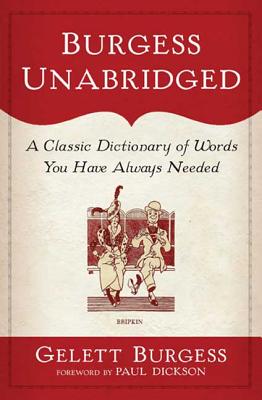 Burgess Unabridged: A Classic Dictionary of Words You Have Always Needed (Hardcover)
A Classic Dictionary of Words You Have Always Needed
Walker & Company, 9780802716460, 144pp.
Publication Date: September 4, 2007
* Individual store prices may vary.
or
Not Currently Available for Direct Purchase
Description
The classic dictionary of invented words, coined by one of America's comic geniuses the perfect book for language lovers everywhere.
Gelett Burgess has been a revered figure over generations for anyone who loves wordplay. Probably best known today as the creator of the Goops and the famous Purple Cow verse, he was also the author of many books and a brilliant, iconoclastic American humorist who, when at a loss for words, made them up.
"Burgess Unabridged "is the splendidly entertaining dictionary of linguistic inventions that Burgess originally published in 1914. Some of his coinages have since become playful parts of our language ("blurb," for one) while others were never picked up (such as "huzzlecoo"); but every one of them is as fresh, entertaining, and yes "useful "as when it first appeared. Reading Burgess is sheer delight: in addition to detailed definitions, he provides scintillating brief essays outlining the various usages of each word, and a clever eight-line poem displaying that word in action. Thus, every page brings entertainment and education in equal measure.
This new edition offers the pleasures of the original typography and design along with the delightful artwork of Herb Roth, illuminating many of Burgess's creations. Like Ambrose Bierce's and Mark Twain's, Gelett Burgess's humor and mastery of the English language are timeless.
About the Author
Gelett Burgess was the author of some forty-four books, and died in 1951 at the age of eighty-five. Paul Dickson is the author of Slang: The Topical Dictionary of Americanisms, among many language books. He lives in Garrett Park, Maryland.
Praise For Burgess Unabridged: A Classic Dictionary of Words You Have Always Needed…
Blurbs for Burgess Unabridged:

"A word book any word lover will love."--Will Shortz, crossword editor, New York Times, and puzzlemaster, NPR

"The perfect dictionary for browsing--the words may be unfamiliar but the things Burgess describes are universally known (and hilarious)."--Erin McKean, American lexicographer and editor of Verbatim: The Language Quarterly
Advertisement