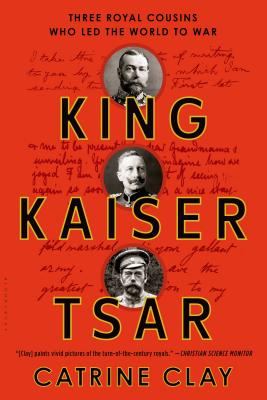 King, Kaiser, Tsar: Three Royal Cousins Who Led the World to War (Paperback)
Three Royal Cousins Who Led the World to War
Walker & Company, 9780802716774, 432pp.
Publication Date: June 24, 2008
* Individual store prices may vary.
or
Not Currently Available for Direct Purchase
Description
Known among their families as Willy, Georgie, and Nicky, they were, respectively, the royal cousins Kaiser Wilhelm II of Germany, George V of England, and Nicholas II of Russia-the first two grandsons of Queen Victoria, the latter her grandson by marriage. In 1914, on the eve of world war, they controlled the destiny of Europe and the fates of millions of their subjects. The outcome, and their personal endings are well known-Nicky shot with his family by the Bolsheviks, Willy in exile in Holland, Georgie still atop his throne. Largely untold, however, is the family saga that played such a pivotal role in bringing the world to the precipice. Drawing widely on previously unpublished royal letters and diaries, made public for the first time by Queen Elizabeth II, Catrine Clay chronicles the riveting half century of the royals' overlapping lives. They met frequently from childhood, on holidays, weddings, birthdays, and each others' coronations. They saw themselves as royal colleagues, a trade union of kings, standing shoulder to shoulder against the rise of Socialism, Republicanism, and revolution. And yet tensions abounded between them. Clay deftly reveals how intimate family details had deep historical significance, and at every point in her remarkable book, Catrine Clay sheds new light on a watershed period in world history.
About the Author
Catrine Clay has worked for the BBC for more than twenty years, directing and producing award-winning television documentaries. KING, KAISER, TSAR is her third book, resulting from her documentary of the same title. She is married and lives in London with her three children.
Advertisement