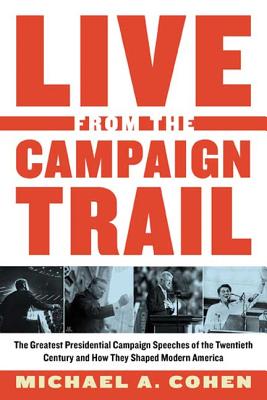 Live From the Campaign Trail (Paperback)
The Greatest Presidential Campaign Speeches of the Twentieth Century and How They Shaped Modern America
Walker Books, 9780802716972, 576pp.
Publication Date: June 24, 2008
* Individual store prices may vary.
Description
Publishing into the teeth of the 2008 election, a selection of the best, most rousing presidential stump speeches, with essential critical context relating the speeches of the past to politics today.
In this collection of twenty-seven of the most influential presidential campaign speeches of the twentieth century, Michael A. Cohen brings to life the words that have shaped American politics over the last century. From the legendary, like William Jennings Bryan's "Cross of Gold" and Ronald Reagan's call for a "national crusade to make America great again"; to the infamous, including Richard Nixon's maudlin "Checkers" speech and Bill Clinton's rhetorical broadside against the rapper Sister Souljah; to the poignant, such as FDR's evocation of America's "rendezvous with destiny," Hubert Humphrey's call for America to walk "into the bright sunshine of human rights," and Kennedy's demand for an end to "religious intolerance," all the great campaign speeches are here. With supporting essays that dramatically set the scene and provide the reader with a historical context to better understand the impact of these seminal addresses, Live from the Campaign Trail will do what no book has ever done before—use the great oratory of the campaign trail to help us examine anew how we got where we are today in American politics and help us better understand the grand themes that underscore the political debates of the twenty-first century.
About the Author
Michael A. Cohen is a professional speechwriter who has worked in both politics and corporate communications. A senior fellow at the New America Foundation, Cohen teaches speechwriting and political rhetoric at Columbia University's School of International and Public Affairs. He lives in Brooklyn.
Praise For Live From the Campaign Trail: The Greatest Presidential Campaign Speeches of the Twentieth Century and How They Shaped Modern America…
"This is a perfectly timed compendium for anyone skeptical about the power of rhetoric during a campaign, or (come on, admit it!) anyone who's been completely mesmerized. Mr. Cohen draws upon a rich context, from news accounts in The New York Times and The Nation at the turn of the century to interviews with J.F.K. speechwriter Ted Sorensen." —New York Observer
"Mr. Cohen's informed narrative and perceptive analysis illuminate the addresses he gathered." —Wall Street Journal
"This is an ideal book for the campaign season." —Publishers Weekly
"Cohen offers a timely source for understanding the craft behind this year's oratory." —Booklist
"The campaign speech has always been central to who we Americans are (and perhaps even more interestingly, who we aspire to be). Thanks to Michael A. Cohen, we now have a place to read all of these essential statements in one place. Highly recommended." —Ted Widmer, former speechwriter, President Clinton, and director, John Carter Brown Library, Brown University
or
Not Currently Available for Direct Purchase