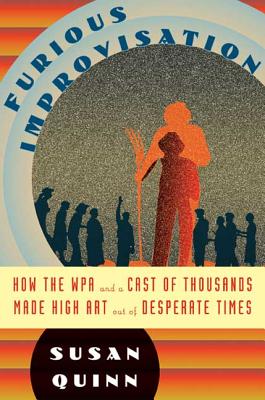 The Furious Improvisation: How the WPA and a Cast of Thousands Made High Art out of Desperate Times (Hardcover)
How the WPA and a Cast of Thousands Made High Art out of Desperate Times
Walker & Company, 9780802716989, 336pp.
Publication Date: July 8, 2008
* Individual store prices may vary.
or
Not Currently Available for Direct Purchase
Description
A vivid portrait of the turbulent 1930s and the Roosevelt administration as seen through the WPA's Federal Theater Project.
Under the direction of a five-foot redheaded firecracker, Hallie Flanagan, the Federal Theater Project managed to turn a WPA relief program into a platform for some of the most inventive and cutting-edge theater of its time. This daring experiment by the U.S. government in support of the arts electrified audiences with exciting, controversial productions. Plays like "Voodoo Macbeth" and "The Cradle Will Rock" stirred up politicians by defying segregation and putting the spotlight on social injustice, and the FT P starred some of the greatest figures in twentieth-century American arts including Orson Welles, John Houseman, and Sinclair Lewis. Susan Quinn brings to life the politics of this desperate era when FDR, Eleanor Roosevelt, and the chain-smoking idealist Harry Hopkins furiously improvised programs to get millions of hungry, unemployed people back to work. Quinn's compelling story of politics and idealism reaches a dramatic climax with the rise of Martin Dies and the House Un-American Activities Committee, which turned the FTP into the first victim of a Red scare that would roil the nation for the next twenty years.
About the Author
Susan Quinn is the author of two award-winning biographies, about Marie Curie and Karen Horney, as well as Human Trials, which recounts the emotion-laden process of developing a drug for a difficult disease. She lives in Brookline, Massachusetts.
Praise For The Furious Improvisation: How the WPA and a Cast of Thousands Made High Art out of Desperate Times…
"Quinn illuminates both sides of the coin in this energetic and adeptly detailed account of the remarkable achievements of the Federal Theatre Project…. A celbrated biographer, Quinn relishes the complex temperaments of the key playrs.... Much more than the sum of its fascinating parts, Quinn's history couldn't be timelier as we face yet another time of economic hardship."—Booklist
"Quinn's well-written narrative is both fascinating and frightening as politics and idealism come to metaphorical blows with the rise of Martin Dies...Recommended for all large public libraries and all academic libraries."—Library Journal (starred review)
"Quinn (Marie Curie) does a superb job of recounting the rise and fall of the Federal Theatre Project"
—Publishers Weekly (starred review)
"Insightful, judiciously selective history of the Federal Theatre Project (FTP), the most controversial branch of the New Deal's Works Progress Administration (WPA)."—Kirkus Reviews
"Susan Quinn has already proven herself a master at depicting the lives of exceptional women, and in Hallie Flanagan she has found a compelling successor to her previous subjects, Marie Curie and Karen Horney. As the head of the New Deal's glorious but doomed Federal Theatre Project, Flanagan is the protagonist of a neglected chapter in the pivotal Roosevelt years. With a cast of period icons ranging from Harry Hopkins to Orson Welles, Quinn's vibrant narrative exposes the myriad "-isms" —racism, sexism, communism, fascism—defying the birthright of a young democracy whose survival was still very much in question. A provocative reminder of how consistent our national conflicts remain." —Diane McWhorter, author of Carry Me Home
"Gore Vidal refers to our country as the United States of Amnesia. It is urgent that everyone read this remarkable book about the extraordinary work that took place under FDR's guidance, when an entire population was rescued from unemployment. And more extraordinary than that was the inclusion of artists and theater people. This is unique in our country's history. This book demonstrates that better than any other." —Ellen Adler, daughter of Stella Adler and granddaughter of the great Yiddish actor Jacob Adler
"Susan Quinn has gifted us with a key moment in the history of F.D.R.'s New Deal. Especially thrilling and revelatory is the work of the Arts Project of the WPA. Not only were there rakes and shovels, jobs and food for family, there was exhilarating and hopeful theatre, music, and painting, lifting our spirits. They gave us all hope."—Studs Terkel
"This fine book combines elements of political history, theater lore, and a saga of social justice. In showing us a rare triumph of bold artists in league with brave public servants, Quinn rescues the idea that the imagination and government can be friends instead of strangers. Our times are desperate, too, and Furious Improvisation comes at just the right moment."–James Carroll, author House of War and Constantine's Sword
"Susan Quinn's Furious Improvisation is a fascinating account of a fleeting moment in American history when the U.S. government felt some obligation to provide work for its more indigent citizens, including artists. Hallie Flanagan, the heroine of this book, emerges as a true saint of the theatre–passionate, visionary, and inspired. Well-written and thoroughly engrossing."–Robert Brustein, founder Yale Repertory Theatre, American Repertory Theatre, and theater critic for the New Republic
"A brilliant, riveting account of the most tempestuous times in American history and the woman at the dramatic and dangerous center of the maelstrom."–Barbara Goldsmith, author Little Gloria . . . Happy at Last and Obsessive Genius
Advertisement