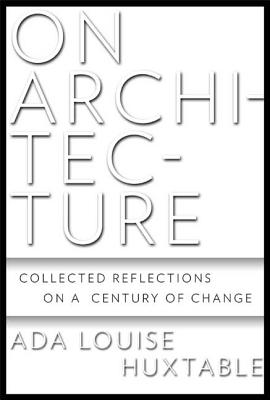 On Architecture
Collected Reflections on a Century of Change
Hardcover

* Individual store prices may vary.
Other Editions of This Title:
Paperback (11/3/2010)
Description
The architectural revolution of the twentieth century as witnessed by America's preeminent architecture critic.
Known for her well-reasoned and passionately held beliefs about architecture, Ada Louise Huxtable has captivated readers across the country for decades, in the process becoming one of the best-known critics in the world. Her keen eye and vivid writing have reinforced to readers how important architecture is and why it continues to be both controversial and fascinating.
In her new book—which gathers together the best of her writing, from one of her first pieces in the New York Times in 1962 on le Corbusier's Carpenter Center at Harvard, to essays in the New York Review of Books, to more recent writing in the Wall Street Journal—Huxtable bears witness to some of the twentieth century's best—and worst—architectural masters and projects.
With a perspective of more than four decades, Huxtable examines the century's modernist beginnings and then turns her critic's eye to the seismic shift in style, function, and fashion that occurred midcentury—all leading to a dramatic new architecture of the twenty-first century. Much of the writing in On Architecture has never appeared in book form before, and Huxtable's many admirers will be delighted to once again have access to her elegant, impassioned opinions, insights, and wisdom.
"Looking back, I realize that my career covered an extraordinary period of change, that I was writing at a time in which architecture was changing slowly but radically—a time when everything about modernism was being incrementally questioned and rejected as we moved into a new kind of thinking and building." And while it was a quiet, nearly stealth revolution, it was a absolutely a revolution in which the past was reaccepted and reincorporated, periods and styles ignored by modernism were reexamined and reevaluated. History and theory, once considered irrelevant, became central to the practice of architecture again."
Walker Books, 9780802717078, 496pp.
Publication Date: October 28, 2008
About the Author
Ada Louise Huxtable, former New York Times critic, winner of the first Pulitzer Prize for Distinguished Criticism, and MacArthur and Guggenheim Fellow, is currently the architecture critic for the Wall Street Journal. She is recognized as the founder of contemporary architectural journalism. Her books include The Unreal America: Architecture and Illusion, Kicked a Building Lately? and, most recently, a short biography of Frank Lloyd Wright for the Penguin Lives series. She served for many years on the juries of the Pritzker Architecture Prize and the American Committee of the Japanese Praemium Imperiale. She lives in New York City and Marblehead, Mass.
or
Not Currently Available for Direct Purchase