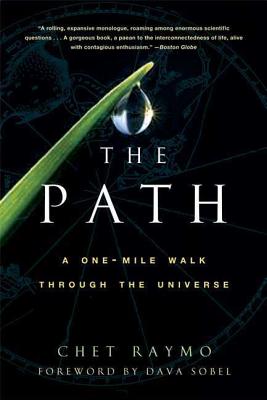 The Path: A One-Mile Walk Through the Universe (Paperback)
A One-Mile Walk Through the Universe
Walker & Company, 9780802717191, 199pp.
Publication Date: April 1, 2009
* Individual store prices may vary.
or
Not Currently Available for Direct Purchase
Description
For almost forty years, Chet Raymo has walked a one-mile path from his house in North Easton, Massachusetts to the Stonehill College campus where he taught physics and astronomy. The woods and fields, stream and community gardens he passes are as familiar to him as his own backyard. Raymo closely observes everything, combining the curiosity of a scientist, an historian's knowledge and respect for the past, and a child's capacity for wonder. With each step, the landscape he traverses becomes deeper, richer, more multidimensional, opening door after door into astronomy, geology, biology, history, and literature, and making the path universal in scope.
"The flake of granite in the path was once at the core of towering mountains pushed up across New England when continents collided," he writes. "The purple loosestrife beside the stream emigrated from Europe in the 1800s as a garden ornamental, then went wantonly native in a land of wild frontiers...I have attended to all of these stories and tried to hear what the landscape has to say. I have attended, too, to language. How did the wood anemone and Sheep Pasture get their names? What does the queset of Queset Brook signify in the language of Native Americans? Scratch a name in a landscape and history bubbles up like a spring."
Borrowing the words of the early 20th-century naturalist Robert Lloyd Praeger, Raymo urges us all to walk "with reverent feet...stopping often, watching closely, listening carefully." Raymo's wisdom and insights inspire us to experience the world fully, to turn our local paths (whether through cities, suburbs, or rural areas) into portals to greater understanding of our interconnectedness with nature, and of our own history.
About the Author
Chet Raymo is the author of Walking Zero, Climbing Brandon, An Intimate Look at the Night Sky, Skeptics and True Believers, and several other books about science and nature. His popular weekly column "Science Musings" appeared in the Boston Globe from 1983 until 2003. Professor emeritus of physics and astronomy at Stonehill College in North Easton, Massachusetts.
Advertisement