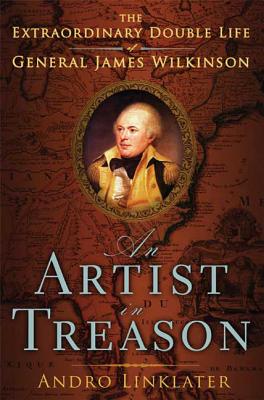 An Artist in Treason (Hardcover)
The Extraordinary Double Life of General James Wilkinson
Walker Books, 9780802717207, 400pp.
Publication Date: September 29, 2009
Other Editions of This Title:
Paperback (9/28/2010)
* Individual store prices may vary.
Description
The first modern biography of the greatest traitor—and one of the most colorful characters—in American history.

Patriot, traitor, general, spy: James Wilkinson was a consummate contradiction. Brilliant and precocious, at age twenty he was both the youngest general in the revolutionary Continental Army, and privy to the Conway cabal to oust Washington from command. He was Benedict Arnold's aide, but the first to reveal Arnold's infamous treachery. By thirty-eight, he was the senior general in the United States army—and had turned traitor himself.
Wilkinson's audacious career as Agent 13 in the Spanish secret service while in command of American forces is all the more remarkable because it was anything but hidden. Though he betrayed America's strategic secrets, sought to keep the new country from expanding beyond the Mississippi, and almost delivered Lewis and Clark's expedition into Spanish hands, four presidents—Washington, Adams, Jefferson, and Madison—turned a blind eye to his treachery. They gambled that Wilkinson—by turns charming and ruthless—would never betray the army itself and use it to overthrow our nascent democracy—a fate every other democracy in the Western hemisphere endured. The crucial test came in 1806, when at the last minute Wilkinson turned the army against Aaron Burr and foiled his conspiracy to break up the U nion.
A superb writer and superlative storyteller, Andro Linklater captures with brio Wilkinson's charismatic ability to live a double life in public view. His saga shows, more clearly than any other, how fragile the young republic was and how its strength grew from the risks its leaders faced and the challenges they had to overcome.
About the Author
Andro Linklater was the author of Measuring America: How an Untamed Wilderness Shaped the United States and Fulfilled the Promise of Democracy as well as The Code of Love and several other books. He lived in England.
Praise For An Artist in Treason: The Extraordinary Double Life of General James Wilkinson…
"Wilkinson may be the most unscrupulous character in all of American history…This biography of Wilkinson, who, writes Linklater, had 'one of the most extraordinary careers as a secret agent in the history of espionage,' is probably the best we have; it certainly is the most smoothly written." —The New York Review of Books
"Anyone with a taste for charming, talented, complex, troubled, duplicitous and needy historical figures will savor this book....Linklater (Measuring America) skillfully captures this sociopathic rogue who, for all his defects, still commands attention from everyone trying to understand the 50 years after 1775. His charisma reaches across two centuries to perplex and fascinate any reader of this fast-paced and fully researched work." —Publishers Weekly
"[A] gripping biography." —Boston Globe
"The central core of any sociopath's dark inner soul - be it an Adolf Hitler, a John DeLorean or a Bernard Madoff - is the desire to risk disaster, disgrace and punishment in the hopes of finding some final forgiveness. This is what makes them so dangerous, for in their wild thrashing about between the rush of taking the gamble and the frenzy of evasion, any bystander can become collateral damage. This tale of how the most powerful American general of his day almost destroyed the infant Republic is a real psychological thriller." —The Washington Times
"This fascinating and richly detailed book is a useful resource for studying America's early struggles with internal interference and external opposition." —Library Journal
"Andro Linklater combed Spanish, British and American records to tell this complex story in fascinating…detail." —Carl Hartman, Associated Press
"The historian Frederick Jackson Turner called Wilkinson "the most consummate artist in treason the nation has ever possessed," and historian Linklater (The Fabric of America: How Our Borders and Boundaries Shaped the Country and Forged Our National Identity, 2007, etc.) builds a strong case that he deserved that title... A well-wrought study of far-reaching treachery in the early years of the United States." —Kirkus Reviews
Coverage from NPR
or
Not Currently Available for Direct Purchase