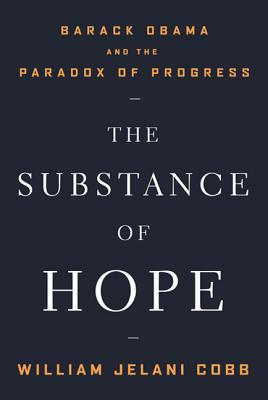 The Substance of Hope (Hardcover)
Barack Obama and the Paradox of Progress
Walker Books, 9780802717399, 208pp.
Publication Date: May 25, 2010
* Individual store prices may vary.
Description
For acclaimed historian William Jelani Cobb, the historic election of Barack Obama to the presidency is not the most remarkable development of the 2008 election; even more so is the fact that Obama won some 90 percent of the black vote in the primaries across America despite the fact that the established black leadership since the civil rights era—men like Jesse Jackson, John Lewis, Andrew Young, who paved the way for his candidacy—all openly supported Hillary Clinton. Clearly a sea change has occurred among black voters, ironically pushing the architects of the civil rights movement toward the periphery at the moment when their political dreams were most fully realized.
How this has happened, and the powerful implications it holds for America's politics and social landscape, is the focus of The Substance of Hope, a deeply insightful, paradigm-shifting examination of a new generation of voters that has not been shaped by the raw memory of Jim Crow and has a different range of imperatives. Cobb sees Obama's ascendancy as "a reality that has been taking shape in tiny increments for the past four decades," and examines thorny issues such as the paradox and contradictions embodied in race and patriotism, identity and citizenship; how the civil rights leadership became a political machine; why the term "postracial" is as iniquitous as it is inaccurate; and whether our society has really changed with Obama's election.
Elegantly written and powerfully argued, The Substance of Hope challenges conventional wisdom as it offers original insight into America's future.
About the Author
William Jelani Cobb, Ph.D., a History Professor at Rutgers University, is former Associate Professor of History at Spelman College in Atlanta, and is a contributing writer for Essence magazine. His essays and reviews have appeared in The Washington Post, The Progressive, Alternet.org, and other publications. He has been a featured commentator on National Public Radio, and is the author of To The Break of Dawn: A Freestyle on the Hip Hop Aesthetic and The Devil & Dave Chappelle and Other Essays.
Praise For The Substance of Hope: Barack Obama and the Paradox of Progress…
"Clear, concise writing, a conversational tone, and cogent arguments make this a compelling read, particularly for those with an interest in Obama's presidential campaign and election, but also for students of politics, history, and the Civil Rights Movement. " —Library Journal
"Cobb is especially good on the contrast between Obama and Jesse Jackson, whose celebrated work had opened many doors for Obama, but who now failed to inspire most young African-Americans. Obama embodies the face--multiracial and cosmopolitan--of the next generation, and his 'ultimate significance may be less as a president than as a harbinger of what comes after his presidency.' A rich, provocative meditation on the importance of Obama's election." —Kirkus Reviews
"William Jelani Cobb has written a smart and observant reminder of the candidacy and election of President Barack Obama....This little book is packed with common sense observations that are given weight and meaning through Professor Cobb's academic and historical insight." —Melissa Harris-Lacewell, associate professor of politics and African-American studies at Princeton University
"Barack Obama's presidential campaign shone an incisive light on the nation's attitudes about race and on the roots of black political empowerment. William Jelani Cobb provides a wealth of historical background and an eloquent appraisal of the present, as he narrates how a grassroots movement and a cadre of young people (the Joshua generation) successfully fought the established political machine for the hearts and ballots of the black community. An insightful and thought-provoking book." —Benjamin Todd Jealous, President and CEO of the NAACP
"William Jelani Cobb's The Substance of Hope is a deft analysis of many vectors brought to bear on the unexpected rise of Barack Obama. With a specific eye towards the overlap between race and age, Cobb deconstructs the politics of the civil rights generation in the Obama age with nuance and honesty. A provocative book, from a provocative mind." —Ta-Nehisi Coates, author of The Beautiful Struggle
or
Not Currently Available for Direct Purchase