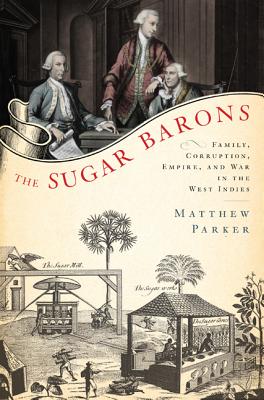 The Sugar Barons (Hardcover)
Family, Corruption, Empire, and War in the West Indies
Walker Books, 9780802717443, 464pp.
Publication Date: August 16, 2011
Other Editions of This Title:
Digital Audiobook (8/15/2011)
Paperback (11/13/2012)
Hardcover (4/1/2011)
MP3 CD (8/16/2011)
Paperback (2/1/2012)
Compact Disc (8/16/2011)
Compact Disc (8/16/2011)
* Individual store prices may vary.
Description
To those who travel there today, the West Indies are unspoiled paradise islands. Yet that image conceals a turbulent and shocking history. For some 200 years after 1650, the West Indies were the strategic center of the western world, witnessing one of the greatest power struggles of the age as Europeans made and lost immense fortunes growing and trading in sugar-a commodity so lucrative it became known as "white gold." As Matthew Parker vividly chronicles in his sweeping history, the sugar revolution made the English, in particular, a nation of voracious consumers-so much so that the wealth of her island colonies became the foundation and focus of England's commercial and imperial greatness, underpinning the British economy and ultimately fueling the Industrial Revolution. Yet with the incredible wealth came untold misery: the horror endured by slaves, on whose backs the sugar empire was brutally built; the rampant disease that claimed the lives of one-third of all whites within three years of arrival in the Caribbean; the cruelty, corruption, and decadence of the plantation culture.
While sugar came to dictate imperial policy, for those on the ground the British West Indian empire presented a disturbing moral universe. Parker brilliantly interweaves the human stories of those since lost to history whose fortunes and fame rose and fell with sugar. Their industry drove the development of the North American mainland states, and with it a slave culture, as the plantation model was exported to the warm, southern states. Broad in scope, rich in detail, The Sugar Barons freshly links the histories of Europe, the West Indies, and North America and reveals the full impact of the sugar revolution, the resonance of which is still felt today.
About the Author
MATTHEW PARKER spent part of his childhood in the West Indies. He has written for many national newspapers in the UK, contributed to numerous TV and radio programs, and lectured around the world. His bestselling and critically-acclaimed books include Monte Cassino, Panama Fever, The Sugar Barons, and Goldeneye, examining the importance of Jamaica in Ian Fleming's James Bond novels.
Praise For The Sugar Barons: Family, Corruption, Empire, and War in the West Indies…
"An engaging journey to a mercifully vanished world." —The Wall Street Journal
"A tumultuous rollercoaster of a book … Mr. Parker tells an extraordinary, neglected and shameful story with gusto." —The Economist
"Gripping....A compendium of greed, horrible ingenuity, and wickedness, but also a fascinating and thoughtful social history." —William Dalrymple, author of The Last Mughal and Nine Lives
"[A] minutely detailed portrait of one corner of Britain's constantly illuminated empire." —Booklist
"A rich, multifaceted account of the greed and slavery bolstering the rise of England's mercantile empire." —Kirkus
"Successful both as a scholarly introduction to the topic and as an entertaining narrative, this is recommended for readers of any kind of history." —Library Journal
"This is a rousing, fluently written narrative history, full of color, dash, and forceful personalities, but it's also a subtle social portrait of plantation life and governance." —Publishers Weekly
or
Not Currently Available for Direct Purchase