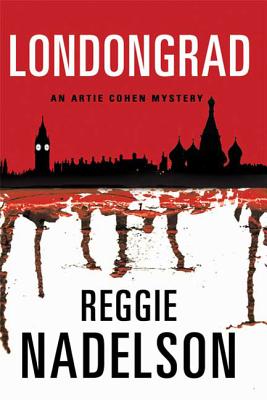 Londongrad
An Artie Cohen Mystery (Artie Cohen Mysteries)
Hardcover

* Individual store prices may vary.
Other Editions of This Title:
Paperback (9/28/2010)
Description
"If I had to choose between betraying my country and betraying my friend, I hope I should have the guts to betray my country."—E. M. Forster

Through seven previous novels, Reggie Nadelson has created one of the more memorable characters in detective fiction: Artie Cohen, New York police detective and first-generation American with complex ties to his Russian past, especially his close friendship with the enigmatic and flamboyant New York/London club owner T olya Sverdloff. Now, in Londongrad—by far Nadelson's most ambitious novel to date—Artie is faced with a murder that strikes at him personally and will ultimately place his best friend's life in his hands as it challenges his own loyalty.
In a playground in Brooklyn, Artie is led to a dead girl tied up in duct tape on a children's swing. He soon realizes the killer murdered the wrong girl—the intended victim was Valentina S verdloff, Tolya's daughter, long adored by Artie. Artie flies to London to tell Tolya and finds himself enmeshed on his friend's behalf in a maelstrom of Russian money and crime. Like Berlin at the end of World War II, somebody tells Artie, Londongrad, as it's known, has become an offshore island for the new Russian underworld. Over his head, Artie is drawn further in, to Moscow, where, balancing between the old KGB and the new FSB, between the dazzle and grimness of Russia today, he uncovers a painful truth about his past that puts Tolya's life in the balance.
Praise For Londongrad: An Artie Cohen Mystery (Artie Cohen Mysteries)…
"Reggie Nadelson is an original. Her detective Artie Cohen is as cunning as he is charming, as hardnosed as he is vulnerable, more gemütlich and giving than he likes to reveal. Her dialogue, characters and descriptive atmosphere are so authentic they assault the senses. This is crime fiction at its highest level." —Open Letters Monthly
"Nadelson's steady pacing keeps the pages turning... the detective-story format overlays an ambitious novel that manages to trace the tentacles of an international underworld of increasingly palpable influence, while at the same time forcing us to confront uncomfortable moral questions of loyalty and honor." —Harper's Magazine
"Reggie Nadelson, where have you been all my life? This book is not just a well-written thriller, but one of those, 'Damn, she's really good' type of books, the kind that inspires reading junkies to immediately seek out the author's backlist to see what he's been missing. LONDONGRAD is a dark, moody, brooding gem that's bound to get under your skin." —Mystery Scene magazine
"If your summer reading calls for something more in the murder mystery and thriller genre, you can't go wrong with Nadelson's latest installment in the Artie Cohen mystery series…a timely tale of crossed loyalties and international conspiracies that should serve many well as a guilty summer pleasure." —Russian Life magazine
Walker Books, 9780802717528, 400pp.
Publication Date: June 30, 2009
About the Author
A journalist and documentary filmmaker, Reggie Nadelson is the author of the Artie Cohen novels, including Londongrad, Fresh Kills, Red Hook, Disturbed Earth, Red Hot Blues, Hot Poppies, Bloody London, and Sex Dolls. Comrade Rockstar, her biography of Dean Reed, the American emigre who became the biggest rock star in the Soviet Union, is under option to Tom Hanks. Born in Greenwich Village, Nadelson now lives in downtown Manhattan.
or
Not Currently Available for Direct Purchase