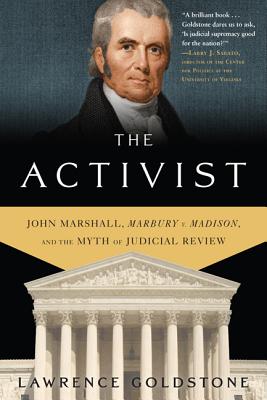 The Activist (Paperback)
John Marshall, Marbury v. Madison, and the Myth of Judicial Review
Walker & Company, 9780802717597, 294pp.
Publication Date: January 4, 2011
Other Editions of This Title:
Hardcover (9/2/2008)
* Individual store prices may vary.
Description
In the waning days of his presidency, in January 1801, John Adams made some historic appointments to preserve his Federalist legacy. Foremost among them, he named his secretary of state, John Marshall, Chief Justice of the Supreme Court-neither of them anticipating that Marshall would soon need to decide the most crucial case in Supreme Court history-Marbury vs. Madison. The Activist is the story of that case and its impact on American history. It revolved around a suit brought by Federalist William Marbury and 3 others that unwittingly set off a Constitutional debate that has reverberated for more than two centuries, for the case introduced a principle ("judicial review") at the heart of our democracy: does the Supreme Court have the right to interpret the Constitution and the law. Acclaimed narrative historian Larry Goldstone makes this early American legal drama come alive for readers today as a seminal moment in our history, chronicling, as it does, the formation and foundation of the Supreme Court. But it has ever since given cover to justices, like Antonin Scalia today, who assert the Court's power over the meaning of the Constitution.That Marshall's opinion was also the very height of the judicial activism that Scalia, John Roberts, and their fellow conservatives deplore promises to be one of American history's great ironies.The debate began in 1801, and continues to this day-and in Lawrence Goldstone's hands, it has never been more interesting or relevant for general readers.
About the Author
Lawrence Goldstone holds a Ph.D. in American Constitutional Studies, and is the author of several highly praised works of narrative history, including Dark Bargain: Slavery, Profits, and the Struggle for the Constitution; and, with his wife, Nancy, Out of the Flames and The Friar and the Cipher. He is also the author of the novel, The Anatomy of Deception, published in January 2008. He lives in Westport, Connecticut.
Praise For The Activist: John Marshall, Marbury v. Madison, and the Myth of Judicial Review…
"The Activist begins with a telling quotation in which Justice Scalia concedes that the Supreme Court's power to pass judgment on the constitutionality of statutes was "made . . . up" (p. 1). Justice Scalia was referring to Marbury v. Madison, which Lawrence Goldstone offers as the "seminal case in American jurisprudence" (p. 2). Dr. Goldstone begins by sketching the background context of the Constitutional Convention of 1787 and the personal history of Chief Justice Marshall, whose opinion in Marbury is described as "perhaps the most adroit exhibition of judicial legerdemain by any judge in the nation's history" (p. 216). Dr. Goldstone then explicates Marbury's role in establishing the power of judicial review, asking whether the Founders would have intended the Court to enjoy the power it wields as the ultimate arbiter of constitutionality. He concludes that the answer is no--to him, the Marbury decision represented little more than "constitutional amendment by fiat, a de facto addition to Article III itself" (p. 224). Although its central claims break little new ground, The Activist presents a vivid account of a pivotal moment in American constitutional history."—Harvard Law Review
"The author's voice is never far from the surface in this sprightly study of the circumstances surrounding the Supreme Court's epochal 1803 decision in Marbury v. Madison that declared an act of Congress unconstitutional. Chief Justice John Marshall's reasoning was "laughable," Goldstone says in characteristically unbuttoned language. Yet popular historian Goldstone (Dark Bargain), who has a Ph.D. in American constitutional studies, also has to acknowledge Marshall's statesmanship and political brilliance in his Marbury decision, a maneuver against the new Democratic-Republican president Jefferson by the Federalist Marshall. The result is a readable, if opinionated, tour of the origins of judicial review. It's hard to make sense of the term "myth" in the book's subtitle, given that judicial review has become the basis of American constitutional law. Still, the book is a valuable review of a complex subject. It also has relevance for today, when, as Goldstone claims, "originalist" judges, in the name of adhering strictly to the words of the Constitution, use judicial review, which is not in the Constitution, to inconsistently strike down laws."—Publishers Weekly
"John Marshall shaped the Supreme Court from its beginnings as a lawyer during Virginia's constitutional ratification process and later as its chief justice on the power of judicial review. Goldstone (Dark Bargain: Slavery, Profits, and the Struggle for the Constitution) proposes that the "myth" of judicial review is that it is not spelled out anywhere in the Constitution, yet the concept has been embraced by strict constructionalists who interpret the law based solely on the Constitution's text. Goldstone says that Marshall's decision in Marbury v. Madison, obliging the Jefferson administration to deliver the previous president's judicial appointment to William Marbury, enhanced the court's power by giving it the authority to say what the law is, an essential function of the courts. Goldstone builds suspense by beginning with the furious 1787 Constitutional Convention debates over the court's jurisdiction and power. He continues with the political battles that marked the beginning of the Supreme Court and ends with the events leading up to Marbury v. Madison. He lays out a remarkably detailed history and argument in favor of Marshall's decision, which set the precedent for judicial review. This is an excellent book on a complex subject. Recommended for all libraries."—Library Journal
or
Not Currently Available for Direct Purchase