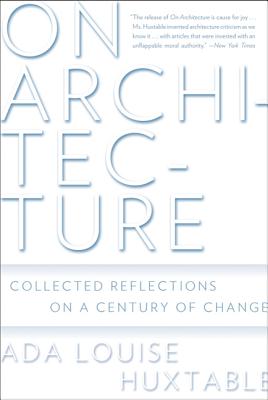 On Architecture (Paperback)
Collected Reflections on a Century of Change
Walker & Company, 9780802717672, 478pp.
Publication Date: November 3, 2010
Other Editions of This Title:
Hardcover (10/28/2008)
* Individual store prices may vary.
Description
For more than half a century, Ada Louise Huxtable's keen eye and vivid writing have reinforced to readers how important architecture is and why it continues to be both controversial and fascinating-making her one of the best-known critics in the world. "On Architecture" collects the best of Huxtable's writing from the "New York Times," "New York Review of Books," "Wall Street Journal," and her various books. In these selections, Huxtable examines the twentieth century's most important architectural masters and projects, cataloging the seismic shifts in style, function, and fashion that have led to the dramatic new architecture of the twenty-first century.
About the Author
Ada Louise Huxtable, former New York Times critic, winner of the first Pulitzer Prize for Distinguished Criticism, and MacArthur and Guggenheim Fellow, is currently the architecture critic for the Wall Street Journal. She is recognized as the founder of contemporary architectural journalism. Her books include The Unreal America: Architecture and Illusion, Kicked a Building Lately? and, most recently, a short biography of Frank Lloyd Wright for the Penguin Lives series. She served for many years on the juries of the Pritzker Architecture Prize and the American Committee of the Japanese Praemium Imperiale. She lives in New York City and Marblehead, Mass.
Praise For On Architecture: Collected Reflections on a Century of Change…
"On Architecture, a career-spanning collection of articles and essays, demonstrates that she has always pursued her mission with reason, elegance and wisdom. Huxtable's work remains the gold standard of criticism—and not just the architectural variety—because she brings to the job a rare combination of aesthetic certitude and roving curiosity … Review by review, essay by persuasive essay, she erects an impressive structure supported by the force of sheer reasonableness. She applauds economy but detests cheapness, appreciates expressivity but abhors showiness, and above all demands that a building make sense. For a colleague less than half her age, it is awesome to observe her pronouncing judgment on elements of New York City that have come to seem immemorial."—New York Times Book Review
"For all of Huxtable's palpable love of the art of design, she never loses sight of architecture's uniquely high stakes. Whether the topic is tall towers or building ornamentation, Frank Gehry or Donald Trump, the backdrop is the real-world implications of what takes shape. Huxtable never played the role of detached observer, the intellectual who looks with contempt on how and where most Americans live…From the start, Huxtable has expressed this better than anyone else. If we're lucky, she'll do so for some time to come."—San Francisco Chronicle
"She can not only make us feel a great loss when a fine building is demolished, she can make us see how valuable it is when a fine new building goes up. To her readers she conveys her own sense of architecture's fundamental importance: 'Architecture is remaking our world. Its rewards are personal and universal in a way no other art can match. Its joys are common to us all.'"—American Scholar
"The release of On Architecture: Collected Reflections on a Century of Change by Ada Louise Huxtable is cause for joy. As a crusading architecture critic for The New York Times in the 1960s and '70s, and the first full-time architecture critic at any newspaper in the United States, Ms. Huxtable invented architecture criticism as we know it. In the process she brought architecture out into the public consciousness with articles that were invested with an unflappable moral authority. Read here, they seem as sharp and piercing today as ever."—New York Times
"Open almost any page and you may be amazed that architecture can excite such passion, such righteous indignation and such sassy turns of phrase."—Dallas Morning News
"America's premier architectural critic values the architecture of a good sentence as much as that of a well-made building…Having defined architecture as the quest to unite efficiency with beauty, Huxtable follows suit in her gracefully incisive essays, enriching our understanding of how architecture embodies our dreams and defines our world."—Booklist (starred review)
"Pulitzer Prize-winner Huxtable presents her penetrating and tough-minded criticism spanning half a century, including several pieces never before published…[A] collection of learned analyses, fluent and exuberant"—Publishers Weekly (starred review)
or
Not Currently Available for Direct Purchase